CARTOON QUARTERLY #1 (1988)

LIMITED AVAILABILITY!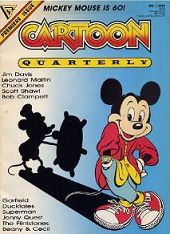 Cartoon Quarterly was one of the first, all-color magazines dedicated to the world of animation.

Cartoon Quarterly was published by the prestigious Gladstone, home of the popular Disney reprints and Carl Barks special editions. The magazine was created and edited by John Cawley and Jim Korkis, both well known animation historians and authors. Cartoon Quarterly #1 featured art and articles by some of the biggest and best-known names in animation.

Cartoon Quarterly is illustrated with page after page of rare rare pre-production art, posters, and specially created art for the issue. Much of it in full color!

Inside this groundbreaking first issue are...
"Mickey At Sixty: A Birthday Party Animal" - How Disney celebrated Mickey's first 60 birthdays
"The Bedrock Chronicles: The Evolution of the Flintstones" - Incredlible visual history of the series and sequels
"The 3 (Animated) Faces of Superman" - Superman from Fleischer to Filmation to Hanna-Barbera
"The Beany & Cecil Story" - The origins of this great series told by Bob Clampett
"Leonard Maltin's Cartoon Column" - Comments from one of entertainment's most popular citizens
"Q&A With Jim Davis" - Garfield's creator talks about his comic creation in animation
"Captain Power and the Animation of the Future" - The first CGI characters to appear in a TV series
"The Oscar Winning Shorts" - A a 55 year filmography of winners, and how the winners are chosen
"Drawing the Line" - A humor column by writer/producer Will Finn
"Cartoon Biography: Pepe LePew" - The creation and life of the lovelorn skunk
"The New Quest for Adventure" - An episode guide to the second season of Jonny Quest
"Animation Profile: Corny Cole" - A master animator/designer is discussed
"New Zeal (Land) in Animation: Footrot Flats" - The story of the animated feature based on Murray Ball's popular comic strip
"Bear and Duck Tales - Disney Animation Comes to TV" - Disney's beginnings in TV animation
Plus... News, Editorials, Ads, and more!

48 pages with contributors including Leonard Maltin, Chuck Jones, Scott Shaw!, Bob Clampett, Floyd Norman, Jim Davis, Jerry Beck, Mark Kausler, Jim Fanning, Mark Mayerson, Gary Conrad, Brett Koth, Mark Schirmeister and more!