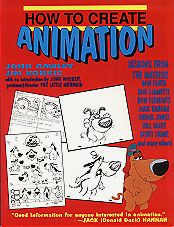 How to Create Animation
Written by John Cawley & Jim Korkis
Foreword by John Musker
1990 - Pioneer
INTERVIEWS NOW ON LINE

Not another "how to draw book", rather this is a series of in-depth interviews with those who create contemporary animation. How they got into the business, what their job is, the productions they loved, the productions they hated and what their daily routine is. Talents include Don Bluth, Chris Buck, Glen Keane, Darrel Van Citters, Ron Clements, Scott Shaw!, Pete Alvarado, Ed Gombert, Mitch Schauer, Mike Giamimo, Bob Givens, Bill Lorencz, Phil Phillipson, Mark Kausler, John Pomeroy, and Gary Goldman. Also included are comments from classic creators like Bob Clampett, Jack Hannah, Chuck Jones and Bill Scott.