Frames of Time...
---
004_05 - My first car, the "Arctic Fox"...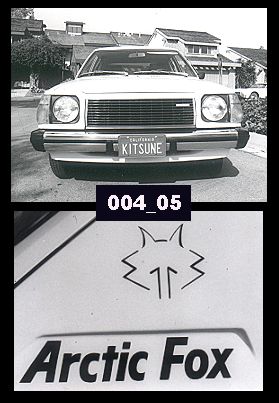 Here are two shots of my first car, a white Mazda GLC. It was the first year the model was released, 1977 (I believe).
My first driving experiences were in the family cars. One was a yellow AMC Gremlin. The other was a blue and tan AMC Hornet. When I went to get my first car, I chose this white, Mazda GLC. The main influence were Disneyland co-workers. A particularly avid car buff, insisted Mazdas were the best cars made. He owned a rotary engine RX7, but suggested the more traditionally engined GLC for me.
Already a big fan of foxes, I felt I needed to link my new purchase to my main interest. Since it was a Japanese car, and California had just allowed 7-letter license plates, it was registered as KITSUNE. Since it was white, "arctic fox" seemed the most obvious. For my birthday, a friend located a place that painted signs on cars and we had "arctic fox" put on it. Above the wording was the fox icon I created and used in signatures. (The icon was a stylized version of the first step for drawing a fox from a 'how to draw animals' book I had. I have seen similar logos appearing since the 1990s.)
I held on to the car for several years. It was sporty and fun. It took me to school, work at Disneyland, Hollywood, and more. When I would meet folks, I often found they remembered having seen the car previously. The only downside was it was not very powerful. On one stretch of the 405 freeway that was highly inclined, the "arctic fox" could barely do 50 mph! I then moved up to a stick-shift later model of the GLC. It had power and drove well. However two bad experiences, one with the dealer (who refused to fix a paint blemish) and another with the Mazda corporation (that would not honor the warranty) made me swear never to buy Mazda again.
My next vehicle was a Ford Truck. It was a stick shift, and I drove it for over 100,000 miles without a problem.

text, photo and format © John Cawley
---
Back To Archives
Back To Main Page