Frames of Time...
---
008_05 - Pardon me boy...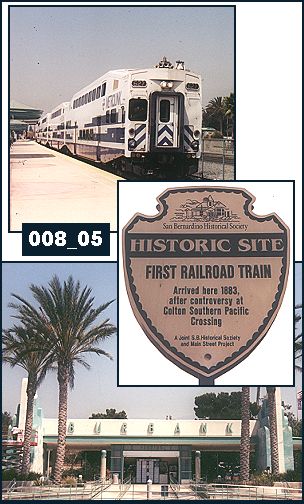 I never took a vacation by train. Usually my mode was airplane or car, and on a few rare occasions, but bus. Now I take the train almost every day to work.
I have commuted via automobile from my college days in the 1970s. My various cars, trucks and vans gave me total freedom. The times I had to use public transportation, I found it cumbersome, confusing and exceedingly slow.
In 2003, there was a presentation by the Los Angeles public transportation department. They were giving out free train tickets on the Metrolink, a special commuter train. I tried it, and found it to be a fairly 'user-friendly' system. It is not perfect, but it does save a lot of time on the road to and from work. And as traffic has gotten tougher, the train has gotten easier to accept. It especially helps when my bad arm or knee gives me trouble. (Driving really aggravates both conditions.)
For my commute, I board the Metrolink at the historic San Bernardino train station. The beautiful depot was recently re-furbished and is quite beautiful. Sadly, it is almost totally unused. The government agencies that helped fund the renovation insisted nothing be added to the original building. Plans to put in security measures and a new restaurant failed. So now it is just a large, handsome, building.
Next, I go to Los Angeles Central Station. All trains go to Los Angeles, it is the hub of the system. Central Station is another grand building. It has newsstands, restuarants, bars and snack areas. It also has a huge seating area for those waiting for trains. There is also an enourmous outside garden, now used by smokers. The original ticket booth area has been beautifuly restored, but like San Bernardino, is used for little except photo shoots. It was really exciting seeing this area, having seen it (or a studio copy) in so many movies of the 30s and 40s.
I then jump onto a Metrolink headed to Burbank. The Burbank station is new and features an art decco style. The station is around 6 blocks to the studio, which I walk. At night, I reverse the process.
It is all pretty convenient. The only issues would be the fact that one must live by their schedule. It means leaving for work a bit earlier than if I drove, and getting home a bit later. I use most of my time on the train to catch up on sleep lost by the hours needed to use the train. I also have found it useful to get through some books and magazines.
As mentioned, I have not had the opportunity to travel by train to a distant location as seen in so many classic movies. However, I do have the opportunity to commute by train, as seen in more modern films and TV shows centered in the Northeast. And the conductors still say "All aboard." Neat.

text, photo and format © John Cawley
---
Back To Archives
Back To Main Page