Frames of Time...
---
006_04 - Not so fa-a-a-a-s-s-st!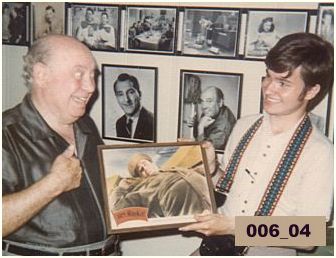 One of the percs of living in Southern California is getting the chance to see celebrities. Of greater joy is the opportunity to actually get to know some.
Joe Besser is probably best known as either one of the Three Stooges or as Stinky the Kid in the Abbott and Costello TV show. His most famous catch phrases being "Not so fa-a-a-a-st!" and "You crazy you!" However his career ran for decades in vaudeville, broadway, film, television and animation.
I was fortunate to meet Joe in the mid 1970s due to friends Greg and Jeff Lenburg who wanted to visit the Three Stooges. As it turned out, I had the car in the group so was drafted to help out. They always said it was lucky I had a car. I always thought they were right.
Joe was a wonderful, classic comedian. Our first visit was for an actual interview. At the time, the Lenburgs hoped to write a book on the Stooges, however at this period, the Stooges were considered at a low in popularity. (I suggested to the Lenburgs they write a book about animation. They borrowed my files and books and created their classic "The Encyclopedia of Animated Cartoons".) The Stooge interviews did get used in an article I wrote for a popular nostalgia magazine at the time, and later in books written by Jeff Lenburg.
The Bessers, Joe and his wife Ernie, lived in one of those quaint tiny homes that grace such "old Hollywood" areas of Burbank and Toluca Lake. Joe answered our questions freely. We then showed Joe some of our collectibles. Having collected movie stuff for some time, we had plenty. I gave Joe a lobby card of his appearance in HEY ROOKIE (seen in the photo). Though he had plenty of souvenirs, note the pictures on his wall, he was very pleased at the gift.
We were soon visiting Joe regularly, around every 2-3 months. He had become almost a surrogate Grandparent to us. He always wanted us up for the holidays. We'd all sit and have dinner with him and Ernie. Talk was simply about current events. Only on occasion would Joe's career pop up, and usually from a phrase or word that would spark his memory.
Joe began to refer to us as "his boys". One Christmas he gave us bottles of after shave. One visit he was kind enough to loan us a 16mm print of HEY ROOKIE. This was in the days before video, and when most TV stations were phasing out black and white movies. It was both a treat to see the film, and an honor that he would allow us to view it.
As I got to hear more and more tales from Joe, I got the impression he felt a bit neglected by Hollywood. He talked of how some folks, who had "come up with him", pretty much ignored him. He would get angry when he spoke of the classic cartoons that utilized sound-alikes (like the elephant in a Warners cartoon). As he said, voice folks who did that were taking money out his mouth. He also complained how his contract on the Joey Bishop show kept him from appearing in IT'S A MAD, MAD, MAD, MAD WORLD. He said he was to have been one of the gas station attendants battling Jonathan Winters.
But he also had positive stories. He talked about how some jobs were surprising. His biggest had been a commercial for OFF back in the sixties. The commercial seemed to run every year, and every year he got a check. He also talked a lot about Lou Costello, especially about the Christmases they had spent together. Lou was probably Joe's best Hollywood friend. (It seemed Joe didn't run with the Hollywood crowd. He simply put in full days of hard work and then headed home to be with Ernie.)
I can easily say, I've seldom seen a man so devoted to his wife. It seemed every visit, Joe would pull us aside to fill us in on Ernie's recent medical issues. He constantly feared for her due to her frail health. Ernie, equally cared greatly for Joe. She often joked she didn't know what he would do without her.
Along with providing company, I was pleased we could even help Joe. Besides supplying him with various items to add to his own colleciton, we found him actual work. At the time we first met him, he wasn't performing much. He said his agent wasn't always active. Since we were involved with animation folks, we began playing him up and soon, he was getting work at Hanna-Barbera. After several gigs he told us he fired his agent. He said "I told him 'my boys' get me more work than you!"
As the seventies ended, so did my visits. My work was keeping me busier and busier and the Lenburgs were moving on to other interests. Also, the death of our other Stooge-friend, Larry Fine (more on him another day), left me feeling a bit out of the loop. My thoughts often wondered how Joe and Ernie were doing. Several years later, around 1985, in need of some information, I called him. When he answered the phone, I started out "You may not remember me, Joe, this is John..." He stopped me cold with, "Of course I remember you. How could I forget John Cawley, yew ca-razy! You are one of my boys."
Joe died only a few years later in 1988. It did not surprise me to hear that Ernie died a few months later. They weren't meant to be apart for long.


---
Back To Archives
Back To Main Page