Frames of Time...
---
007_04 - The home front...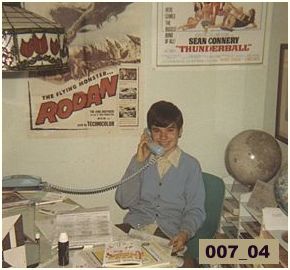 Ever since high school, I've always tried to find a space to make a home office. It would be the place I would go to write, create publications, track my collections, answer letters, and keep in touch with friends and associates.
This photo shows my first real one. It was in a spare bedroom of our home in Farmers Branch, Texas, just outside of the Dallas area. As always, I wanted my space to convey my interests and collection. On the walls were hung original release posters from RODAN and THUNDERBALL. (I was a big movie buff and poster collector, and a super huge Bond fan.) The moon globe in the background was a special premium from Cheerios. (At one point I wanted to be an astronaut.) The stain glass ceiling light was a replica of a classic Coca-Cola pool table light. (I thought Coke was the world's best drink, and still do.) The handy shelf unit behind me held various comic fanzines, and probably some of my more valuable comics. (Comics were my main interest at the time.) One of my geometric art pieces was on the desk (and just visible at bottom left). Between the two globes was a tracing of The Little Green Dinosaur comic strip. (For a time I thought of becoming an inker, and got some encouragement from a number of artists who saw my work.) I Even had an extension phone with my own number. (Gad, it matched my sweater, though not intentionally.)
Around this time period, I was hanging with the likes of Larry Herndon and Buddy Saunders, writers of comics and fiction. I was part of the Dallas bidding committee for the world science fiction convention. I was hitting comic conventions in Houston and Oklahoma. Most likely I was writing some columns for small comic fan magazines. It was also a time I was writing scripts for comics in hopes of breaking in. One was a Brave and the Bold team-up of Batman and Adam Strange. (Got a nice note back from DC comics saying the script was good, but the team-up wasn't really plausible. About five years later DC did do such a team-up.)
Today, my home work space is more family oriented with photos of Rachel and our kids around the walls. However, I'm beginning to set up the loft into a small mini-office. It will mainly be for a second computer. Forget the need for two cars, the modern married couple needs two computers!


---
Back To Archives
Back To Main Page