Frames of Time...
---
008_04 - A Fine Friend...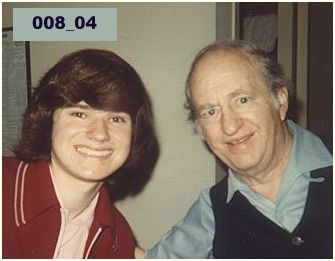 Like many males, I had been a fan of the Three Stooges since my earliest TV memories. I endured tedious local kiddie hosts (like Icky Twerp) to watch the shorts. I even re-discovered anime due to a local UHF channel that ran SPEED RACER and KIMBA between episodes of Stooges.
It's hard to explain the excitement I had when I got to meet Larry Fine. I had already met Joe Besser and become acqainted with one of the "later" Stooges. But Larry had been there from just about the beginning... and definitely from the beginning of the classic Columbia Shorts, which is how I, and about everyone else, knew them.
At the time I met him, he was living in the Motion Picture Country Home, a hospital where elderly or ill celebrities could live. Larry had recently suffered a severe stroke and was wheelchair bound. As Larry explained, if you had worked in pictures and had no money, you could come to the Home and they would find a space and take care of you. If you worked in pictures and still had money, you could get a more private room. Larry had a private room.
Like my time with Joe Besser, my visits with Larry began with my friendship to Greg and Jeff Lenburg. Since I had the car, I drove. Even though the Motion Picture Country Home was nearly two hours from our area, the drive was always worth it.
Larry was the type of comic you imagined he would be. He wasn't the bossy Stooge; that was Moe. He wasn't the crazy Stooge; that would be Curly, Shemp or Joe. He was the sly Stooge. He was the necessary middle-man who commented on ("What a brain") and complimented ("What he wants is a pair of our slick slacks") the action. Like Zeppo Marx, he lent realism to the team, without being a true straight man.
Our first visit with Larry was in the capacity of interviewers and fans. We went to the Home's front desk and signed in. We were led to Larry's room and ended up finding a real friend. It was easy to like Larry. Larry was one of the most openly friendly show biz folks you could meet. He was totally down to Earth, with little pretense of being "a star".
He titled his biography "Stroke of Luck". Though some thought it in poor taste, considering his current condition, he felt that his whole life had been a stroke of luck. He thought he was lucky to have gotten into show business, lucky to have met up with the Stooges, lucky to have had such a long career and even lucky to have had a stroke. As he would recount, it was the first time he was able to rest and actually meet his fans!
Though the Home offered fan mail assistance, Larry insisted on answering his mail, himself. He always had a large box of it on a desk in his room. Occasionally a nurse would ask if she could handle some of the simpler ones. Larry would shake his head no. He would state that if the fans took the time to write to him, he would take the time to answer.
Our visits soon became merely social calls. We'd bring 16mm prints of the Stooge films, and other movies, projecting them on the wall in his room. We'd come up for some of the Home's social events, like their annual wheel chair parade. Sometimes it would be just watch a Dodger's game with him. Larry loved the Dodgers and baseball.
His upbeat attitude was amazing. He would talk of times when money was tight. He would talk of injuries from splinters in cream pies fights. He would talk about deals in which the Stooges never got paid. He talked about the many friends he had lost due to age. Never, did these tales go in the direction of pity or anger. They were simply events in his life, and he had learned to accept them all and move on. He was truly an astounding individual.
It wasn't until until one of our later visits that we discovered how much he felt about us. We were sitting around chatting about stuff when a family showed up. The family had come all the way from Australia to meet him. Larry introduced us to everyone as he signed autographs for the kids. When the family left, we told Larry he should have told us he was having visitors from Australia. We could have come a different day. He looked a bit surprised and then said that the family came from Australia to see him, and they did. He had us come because we were his friends, and that made us the "important" visitors.
Larry's relaxed style was infectious. After being in Larry's presence for a bit, you lost all feelings of being around a "star" or a "sick person", you were just with Larry. We joined in with his jokes about the Home. He joined in on a home movie the Lenburg's were making, actually throwing a cream pie we had brought! He travelled to the Lenburg's school for a fund raising event. At the end of the event, where we showed some shorts and Larry spoke a bit about his career, the audience went wild, giving him a standing ovation. After the crowd settled down, Larry stated that since they had stood for him, he would stand for them. Then to our complete surprise, Larry raised himself out of his wheelchair and stood for a few seconds. It was the only time we had ever seen him do it. He stated he had been in therapy for years and wanted to show off.
On what seemed like one of our usual visits, we went to check in at the front desk but were told that Larry had a cold and couldn't be seen that day. As we left the facilities, there was discussion of seeing him next week. I stated I wasn't sure. When asked why, I said if Larry had simply been sick, he would have either called us to save us the long trip, or had us come in anyway just to say hello. The Lenburgs agreed. The next week we heard that Larry had suffered a small stroke and that he would be accepting visitors in a few weeks. A week later Larry Fine died.
Even though we were still visiting Joe Besser, and on occasion Moe, I felt a huge loss. Joe was pleasant and kind. Moe was polite. Larry had become a true friend. From our first meeting, I began to watch Larry more and more in the shorts. He may not have been bossy or crazy, but he was the glue. Larry was the spirit of fun that was the Stooges.
To this day, I still remember so many of our conversations. They were not just about films or nostalgia. They were about his life... and his luck. And he was a lucky fellow.


---
Back To Archives
Back To Main Page