Frames of Time...
---
009_04 - A Bob Clampett Pho-to-o-o...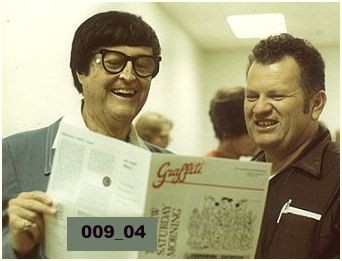 I moved to California the year they held the first San Diego Comic-Con. Unlike other cons of the time that focused mostly on artists and b-movie stars, the Comic-Con began bringing animation folks into the fold.
One of these early Cons had Bob Clampett as a guest. Being in its infancy, the con didn't have anything spectacular planned. It was just Bob in the film room. He had brought a reel of the Warner Bros. cartoons he had directed. He chatted a bit, then showed the reel. The room was barely half full, but the audience roared with laughter at shorts they hadn't seen in years. Afterward, Bob hung around until he got kicked out of the room for the next movie. But Bob didn't need a room. He merely moved into the hallway. For another hour or two Bob kept us laughing with his stories of Warners and early TV.
About a year later, I saw Bob at another convention, and he somehow remembered me. We began chatting and it was the beginning of a casual friendship. Bob was the type of friend that when we saw each other, we'd chat. If I was in Hollywood on some business and had time to drop by his studio, I could. I introduced a number of hopeful fan interviewers to the Clampett studio. Bob and his wife/partner Sodie were always the gracious, enthusiastic hosts. When the comic-collector's club I founded was having an anniversary, he cheerfully dropped by. The photo shows this visit as he looked over one of my current publications. (Comic fans might recognize his jolly co-reader as Eugene Henderson, a good friend, a key comic collector, and a major force at later San Diego Comic-Cons.)
Over the years, I have known three of the famous Warner directors - Clampett, Chuck Jones and Friz Freleng. What struck me was how different they were. Jones was always the "artist", spouting philosophy and seriously talking about the art of animation. Freleng was a matter-of-fact producer who talked about business and art. Clampett was the kid in the candy factory. Bob never discounted the work and talent needed for animation, but he always seemed to be having fun doing it. He was truly accessible and always interested in talking about animation, puppets, or about any other topic you could bring up. He was more like an animation fan. His office sported one of the largest collection of toys and collectibles I had ever seen, and he could discuss the history of each one.
Most of the stories Clampett told me have been reported over and over in print. A true showman, he had his stories ready, and he loved to tell them. And, unlike newer animation folks who speak of the seriousness of the art form, or the need to bring animation into a more adult area, Bob talked of humor and what made people laugh. Bob would talk about his cartoons as someone would talk about their favorite toy. He seemed to have enjoyed making them as much as we enjoyed seeing them.
Sad to say, his open, friendly demeanor, was not well received by some in the business. There were those who questioned some of his stories and claims to credit. I have heard enough first hand stories to know that Bob was definitely a character to work for. I believe his casualness to animation and business in general was as much a factor in his being distanced from other creators as his recollections. (Animation history is full of conflicting claims. Chuck Jones, one of Bob's biggest "doubters", has frequently had his own credits questioned by others in the business.)
Upon Bob's death, a well-known film historian wrote Bob's obit for the Los Angeles Times. The obit spoke a bit about Bob's career, but dwelled on whether or not he deserved the credit. (A popular tone taken by critics of Walt Disney.) I wrote a rebuttal, not something one usually does to obituaries, expressing that Bob's specific claims aside, his career spoke for itself with a slew of popular shorts and TV shows. My letter got printed and sparked a stronger friendship with Sodie and Bob's children.
It also seemed to remind folks that Clampett's talent was real. At a later Warner's tribute, Friz Freleng commented that Bob's cartoons often had mistakes, but that they moved so fast and were so funny, the audience never noticed it. Perhaps like Disney, Bob may have been more of a catalyst. Easily, many talented folks did their best work when working for Bob.
All I know for sure is that Bob had a love for animation that was infectious to all he talked to. He was as fun to be with in person as his cartoons were to watch.


---
Back To Archives
Back To Main Page