Frames of Time...
---
011_04 - Spirited Away in Japan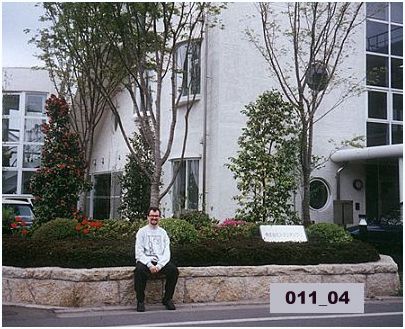 In 1993, I took a trip to Japan to visit animation studios and see foxes. One of the studios visited was Studio Ghibli.
Back in the early 90s, Studio Ghibli was mostly unknown except to fans of anime and director Hayao Miyazaki. At that time, the studio had released several key films, including their first blockbuster, MY NEIGHBOR TOTORO. The studio was the home of not only Miyazaki, but of Miyazaki's mentor and friend, Isao Takahato.
I had been a fan of Miyazaki since seeing CASTLE OF CAGLIOSTRA in the early 1980s. Based on the popular LUPIN III TV series, the feature had speed, wit and a sense of style not associated with animated features. It also had a fast-paced, well written story. I almost immediately placed the film on my list of top ten animated features.
Next, I saw Laputa. I saw it in Japanese at one of the first anime conventions. What struck me, was that, even without knowing the language, the characters and story were easily understood. It reminded me of one of Disney's famed "nine old men" who told me, you could best judge the quality of a film with the sound off. They reasoned if the story, the acting and the characterization were strong enough, you could follow the movie silent. Miyazaki had done this with LAPUTA.
Though I admit to not being much of a fan of such films as NAUSICAA, KIKI'S DELIVERY SERVICE or MY NEIGHBOR TOTORO, I found that even when the story did not hold me, Miyazaki's visuals did. As I saw more and more animators follow his vision (i.e. steal or homage), I began referring to Miyazaki as the Spielberg of the 80s.
When the trip to Japan was being planned, Ghibli was a studio I was hoping to possibly visit. Initially, I was told by folks to "forget it" as it was off the beaten path and not open to tourists. As it turned out, my guide had a "friend of a friend" who was able to get us a visit. (The "us" included good friend and animation warhorse Bob Miller who accompanied us on the first leg of my trip.)
The day we visited Ghibli, they were hard at work completing POM POKO. The feature, an ecological tale about raccoons battling a human invasion, was one of Takahato's. The artists and production people were all enthused about the project and the people they worked for. Several commented on how Miyazaki thought so highly of Takahato. Also mentioned was that Takahato's films were as well respected as Miyazaki's, but that Miyazaki tended to pick more commercial vehicles. In fact, they said POM POKO was Takahato's attempt to tackle a story closer to Miyazaki's themes.
Walking through the studio and seeing the care and craftsmanship was great. Unlike the stereotyped overseas studio which is pictured as a sweatshop, Ghibli was roomy and friendly. There was plenty of natural light. Open areas dotted the building for employees to rest. Small kitchens allowed the staff to make meals. A favorite tale was that even Miyazaki used the kitchens, making meals for the crew while in production.
The staff obviously enjoyed what they were doing and who they were working with. Everyone seemed to have nice things to say about the people, the project and the "bosses", Miyazaki and Takahato. The atmosphere reminded me of some of the most friendly, smaller U.S. studios of the 1980s.
Sadly, we were told Miyazaki had a cold that day. In true Miyazaki fashion, he remained home out of consideration for his staff. We said we understood. However, we were told that Miyazaki was possibly going to come in later. The staff suggested we wait. Miyazaki did not make it in, but that in itself was a somewhat fortunate event, for it allowed us a longer stay. We spent the time looking through lush backgrounds, clever animation drawings and vibrant cels.
POM POKO was released in 1994. I'm sure the result pleased Takahato, for, like Miyazaki's MY NEIGHBOR TOTORO, POM POKO was an enormous success. It became the highest grossing film in Japan of the year. It was even submitted by Japan for the Best Foreign Film Oscar! That was the first time an animated film had been so honored by any country. (Ironically, I saw the film in Japan on a later business trip!)
I'd like to wrap this comment up with some astounding aspect of the visit, but I can't. Visiting the Ghibli studio was more like visiting a family. There were no astounding revelations. No amazing equipment or surprises. It was simply a gathering of talented individuals dedicated to their craft. Actually, hearing that the Ghibli studio is still the same in this era of animation industry chaos and compression is pretty astounding itself.


---
Back To Archives
Back To Main Page