Frames of Time...
---
015_04 - Beanies on the Brain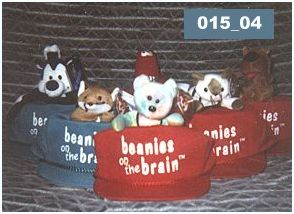 During the mid 1990s, when the animation boom was already waning, I found myself "between jobs" for a while. One way I tried to paying bills was, as I had done in the past, selling my collectibles.
However, my wife Rachel's interest in Beanie Babies, and the frenzy around them gave me additional avenues, and ideas. First, we began hitting swap meets and garage sales. Her knowledge of the market allowed us to pick up items at good prices. These we sold via eBay and at local Beanie Babies shows.
At one garage sale, we picked up an octopus for under a dollar. She later informed me it was very rare. At the next Beanie Baby show we traded it for nearly $75 worth of beanies, most of which we sold.
Another easy source of income was the Disneyland beanies. These were exclusively sold at Disneyland and fetched high prices on the auction market, often over $50! Since we had an annual pass to Disneyland, we began visiting and buying up the Beanies. At the Park they were $6, and we go a discount being pass holders! In a market busting move, we began offering them at a flat rate of $25, including shipping. This was half of what many dealers were selling them for. We did very well.
While at the Beanie Baby shows, Rachel noticed that even though the dealers sold a variety of cases and boxes to store your Beanies in, there was no easy way to carry your favorite Beanie. It made her think. On the drive back from the show, she came up with the idea of wearing your Beanie and before we had gotten home, the idea of "Beanies on the Brain" was born.
Being the more artistic half, Rachel went to work and devised a system for safely attaching your favorite Beanie to a baseball cap. At first we were adapting character caps, matching the caps with the characters. However, that proved to be costly. So we decided to have our own caps made with the phrase "Beanies on the Brain" printed on them. We created a few prototypes, took some photos and hit the next Beanie show.
At the show we got some interest. Even though we were filmed by a news crew and seen on TV, the caps on their own did not take off. We soon found that it was only when they actually had a beanbag accompanying the cap that folks really liked them. This soon led us into searching for the lower price beanbag toys. This was tough at first and had us scouring toy outlets for "no-name" beanbag critters. Suddenly we began finding many dealers who were willing to sell cheaply. We knew what this meant; the beanbag craze was coming to a quick ending! Prices and demand fell almost immediately.
Luckily, I had just found employment. (Not that I could have lived much longer on the beanie income.) Though the beanbag phenomenon has not totally disappeared, it is not the fevered frenzy of a decade ago.
At the moment, we still have around 10 dozen hats and several boxes of beanbags. When the retro market comes, we will be ready!


---
Back To Archives
Back To Main Page