Frames of Time...
---
016_04 - He Sings the Body Electric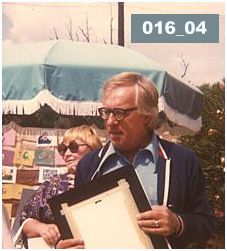 Here is a shot of Ray Bradbury from the early 1970s.
Ray was attending one of June Foray's "cel-ebrations", a fund raising event for ASIFA-Hollywood. Bradbury was actually on the board of directors for ASIFA at the time. During the 70s, June opened her backyard. One would wander around and sort through boxes and boxes of loose cels donated by various studios. All monies went to support the organization.
This was one of several times I saw Ray. One of the most famous, and visible, science fiction writers of the latter half of the last century, Ray was very prolific in his appearances. Despite his dislike of automobiles, his eloquent presence, imaginative thinking and willingness to speak made him an excellent voice for a variety of events and debates. He recently had an article appear in Playboy about why man should go back into space.
My first time seeing Ray was when he attended a screening of the film FAHRENHEIT 451. The film was based on his story of a future where firemen burn books due to their dangerous ideas. Before the film Ray talked of the story and of the film. He praised the director and actors, but voiced displeasure at the final result. He then commented that a good editor could take a mediocre movie and make it a minor classic. Ray's take was that the film was fortunate to have had a good editor.
The screening took place at my future alma mater, California State University at Long Beach. I was there with my high school Science Fiction club. After the screening, Ray went outside and stood for hours as the crowd pushed their way to him with a personal note or something to sign. He responded to each one as if they were the only one there. When it was my turn, I had him sign my book club edition of Fahrenheit 451. He asked where I was from, and noted the distance I had come. The signature was only a quick scribble, but before giving it back to me, he took a second to examine the volume. "Thank goodness for book clubs," he smiled. "They keep the hardback alive."
Ray's friendly nature has made him a favorite of his readers, or any fans of science fiction. Ray has been a guest, or a visitor to numerous conventions. Where he was a guest, one could be certain to hear him discuss anything from the creative process to politics to the publishing business to the role of science. I recall one where he read his (then) recent play which was a space version of Moby Dick.
It is still a joy bumping into Ray at any function. No matter whether he was at a podium or in a crowd, his firm, mellow voice always gives the impression he is talking directly to you, much like the voices of Walter Cronkite and Mr. Rogers.


---
Back To Archives
Back To Main Page