Frames of Time...
---
024_04 - An award winning collection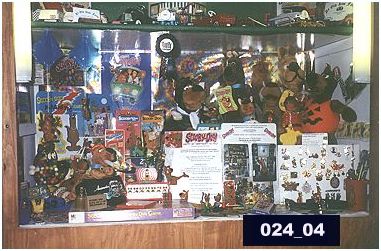 Rachel loves Great Danes. It is thus natural for her to love Scooby Doo. And it follows even more that she loves things of Scooby Doo.
This photo shows the display of Scooby items Rachel entered in the San Bernardino County fair. It was quite impressive and earned her a certificate for best in category. She has also won a photo award at the County fair.
When Rachel and I became a couple we went North for a convention. One of the first things she bought on that trip was a large Scooby plush. While North we stopped in at the Great America theme park. It was a haven to Hanna-Barbera items. Yes, Rachel found more Scooby items to dazzle her.
Shortly after, Warners decided to join Disney in the retail game and the Warner Bros Studio Stores opened up. To Warners' surprise, Scooby became their best seller. Suddenly, it seemed as if one-fourth of the store were Scooby items. And we got many of them! As the average family goes to buy groceries, we would hit the Warner stores and pick up some Scoobys. In fact a Warner Bros outlet store opened only an hour from our home and was the source of many a find.
This flood of Warners Store Scooby items seemed to be never ending. There were costumes for adults, bathtub toys, figurines, pens, pencils, staples, memo books, watches, wallets, rings, shirts, shorts, caps, holiday ornaments, limited cels, and more. There were literally dozens of Scooby beanies. The beanies included holiday themes (Easter, Christmas, Halloween, St Patrick's Day), cities, activities, and costumes.
Along with all the exclusive studio store items, we were also finding an amazing amount of historic and oddball items. These include the first Scooby plush and a gum bank. We also found a disturbing line of figures from Spain that feature such eye-poppers as a drunk Scooby (with beer mug) and Scooby as a convict! In Florida we discovered a beanie of the Mystery Machine and picked it up. We have never seen another one like it!
All of this has lead to an enormous collection of Scooby in our home. Not counting the things on display around the house, we have around two-dozen boxes full of Scooby memorabilia. As our Scooby Shelter has grown, Rachel has decided that enough is enough. She is now holding on to only the special items and has begun selling the others.
In many ways, it reminds me of my collections. When I started one it was great fun finding things. This was due to that fact that it was hard to find anything. But as marketing has increased, things are just too plentiful to try collecting. Everything from comics to posters to original art to books to animation art to films to foxes the collections came, they grew and then they went.
These days we both think twice about picking something up just because we have others at home, or because we think it is "neat". We always ask ourselves "what are we going to really do with this?" If it's just going on a shelf or in a drawer, we pass it by. Unless...


---
Back To Archives
Back To Main Page