Frames of Time...
---
032_04 - Marvel Films Animation 1993-1997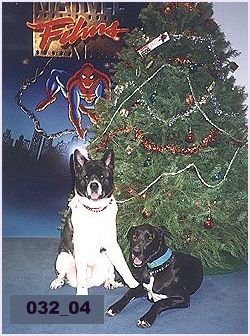 Back in 1993 New World Films "owned" Marvel Comics. Officially both were owned by millionaire Ron Perelman (not the actor), and were basically separate but equal. At the time, Marvel Comics would sign licensing deals with about any company that wanted to make a movie, a cartoon series or merchandise based on the Marvel characters.
With the sudden success of Saban's X-MEN animated series on the FOX Kids network, Perelman began to reconsider how the comic giant's deals were done. It seemed that if Disney and Warner Bros could exploit their properties via TV animation studios and stores, why couldn't New World team with Marvel. Suddenly it was decided that New World would become the home of all productions based on Marvel Comics. First in line for this new venture would be a brand new animated series for the FOX network based on Marvel's Spider-Man.
I was working at Film Roman, completing work on the first season of CRO. (The story of CRO deserves some future pages.) My supervising producer was Bob Richardson, a savvy, talented producer from the silver days of animation. His previous working relationship with Margaret Loesch, head of FOX Kids, made him her first choice to launch SPIDER-MAN: THE ANIMATED SERIES, which FOX hoped would be the centerpiece of their Saturday Morning Line-up.
New World had an animation division, part of the defunct Marvel Productions, now called Graz Entertainment. It was working on the BIKER MICE FROM MARS series. However, New World and their partners in this new venture Stan Lee (co-creator of many classic Marvel characters) and Avi Arad (owner of Toy Biz, and instrumental in getting funding for the series) wanted a studio devoted just to Marvel properties.
Hence Bob discovered he was not only going to produce the first series from Marvel Films Animation, he was also going to have to build the studio from scratch! I was asked to join him on this new adventure so he could focus more on art and less on studio building. Together we designed the workspace, a small corner of the New World building, gathered a crew, set-up production and headed into production. Later, when finding talent became a problem, New World was too far from the Burbank/Glendale talent pool, we found a new location in Van Nuys and built a great facilities from scratch.
As with all new studios, it was a bumpy start. Stan and Avi wanted an animated series that looked "better" than the average Saturday Morning cartoon. Bob and I decided incorporating CGI backgrounds in key scenes would give the show a unique look. Everyone loved it, but, back in 1993, this was still new. We searched around for a CGI studio, and finally settled on a company that was doing video games. The process included us picking the scenes for CGI, the game company creating the animation and outputting it on animation paper and us sending the animation overseas.
We also decided to do the show in digital color, as opposed to traditional ink and paint. Again, over a decade ago, this was the exception, not the rule. In fact, it was hard to find color professionals who understood such programs as Photoshop. We also decided to do some pencil tests in house using computer software and became an early customer of the AXA system.
Finally, we needed an overseas studio. Avi wanted the best, and felt TMS would be that studio. Initially, TMS had some hesitation. First, they had never done a digital series before. Doing SPIDER-MAN would mean converting their Japan facility to computer color. Second, they had no experience dealing with CGI backgrounds. After some negotiations, we finally got them to agree to do the series.
Once we got production going, we found a never ending supply of difficulties. First, James Cameron announced he was going to do a live-action Spider-Man movie and put all sorts of limits on the characters and stories we could tell. (For example, since he wanted his movie to tell the origin of Spider-Man, we were forbidden to have an episode about the tale.) Next, there was a creative falling out between Stan, Avi and the head writer, so a new one was put in place. Then, less than one year into production, the Northridge earthquake hit. It closed the New World building for over a week and scared our receptionist so much she moved to Florida the next day! Some of our voice talent got too popular and disappeared for bigger gigs. Finally, LION KING became a giant hit and began an animation boom that pulled our art talent away at ever increasing numbers.
One of the great perks was that our studio was very family friendly. A number of folks would bring their spouses or young ones in. On many an occasion, Rachel and our kids would come spend the day with me. The photo shows Nikoma and Jordi during a holiday visit. The staff loved to come in and see our kids, who were always pleased to have company.
As we neared completion of the 65 half-hours, power struggles began within FOX Kids. Margaret's ideas, including a new animated series based on THE PLANET OF THE APES film series, seemed to be having trouble. Development was shifted to Saban's studio, which had become a partner at FOX. At Marvel Comics an ownership battle began.
However, production was generally positive. The network and fans alike heralded the debut of the show. It did very well in the ratings. We received regular assurance's there would be a series for our team after SPIDER-MAN. By 1997 half of our space had been filled with FOX's new feature - PLANET ICE (later to be taken over by Don Bluth and re-named TITAN AE). We were then told at the end of 65 episodes the studio would be closed.
Marvel Films Animation, which was born with the SPIDER-MAN series, also died with it. The saddest part, even before we had gotten out of the building, Saban had begun putting their logos on our episodes. Marvel Films Animation became a studio totally forgotten. Even today, many websites and databases list the series as having come from either Saban or Marvel Films Production, an entity that died in the late 1980s.
More will be written about the Marvel Films Animation legacy on future days.


---
Back To Archives
Back To Main Page