Frames of Time...
---
039_04 - Don't Worry, Be Appy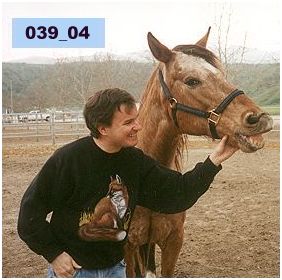 When Rachel came into my life, she brought along a few friends. They included two horses (Diamond, an Appaloosa gelding, and Quartz, an Arabian mare), three felines (Tember, Patchrick and Keyz), three birds(Whip, Inday and Tivet) and one canine (Nikoma, an Akita). I had a fair amount of experience with canines, felines and birds. Horses, on the other hoof, were a somewhat new adventure.
Our family moved to the Houston area in the early 60s. My sister had the typical young girl interest in horses. Living in Texas made it easy for us to locate a riding stable. One weekend, she and her friends went for a ride, and I was allowed to tag along. We got the horses and went out. The first half of the ride was quiet as the horses plodded along. Suddenly, my horse saw something and raced up a steep cliff to the top. Our guide came up to assist me. All I wanted to do was to get off and walk back. Needless to say, I never got on a horse again.
That is until Rachel and I got together. While courting her, I would go to the ranch where she boarded her horses. One night she convinced me to ride Diamond bareback, as she walked him back to his pen from the exercise ring. I nervously clung to his back as we walked the short distance.
After Rachel had moved in, and we had re-located Diamond and Quartz to a new ranch, I had more time to get acquainted with Diamond. Rachel would talk of Quartz's Arabian heritage, and how it meant a certain aloofness. (Quartz left us when she went to a little girl learning to ride, who would have more time than we would.) However, Rachel would have nothing but praise for Diamond's personality. She would say he was almost human. And he was.
Diamond, or Tie-Dye as she called him, knew a number of tricks, from smiling to walking sideways. He would attempt anything for Rachel. Rachel and Diamond won a number of gymkhanas (equine/rider tests of skill). In fact, shortly after the move to the new location, they held a gymkhana. Being new, few thought much of this new team. By days' end, Diamond and Rachel had won almost every match and ended up being the high scorer. Folks congratulated her, but they never held another gymkhana afterwards!
As Rachel had said, he was almost human. When asked a question he would nod his head yes, but only when it was appropriate or humorous. His soulful eyes were full of wisdom and love. Then there was that big smile. My dad took a close-up of it one time. A copy of that photo was put in a frame and placed on my desk at the studio.
Though he obviously was "Rachel's horse", I was "sweet palms". It was a nickname we gave him to call me. The reason was I always made sure we had carrots, apples or other treats when we went to the ranch. Upon arrival, after greeting Rachel his next act would be to come to me and push his muzzle around my hands and pockets to see what treats I might have.
He realized my nervousness around him. I wasn't worried about his attitude, only his size. Such a giant beast had great power. I learned that in Houston. And when I rode Diamond, being so high, brought a nervousness. But unlike other animals who "sense fear" and react negatively, Diamond tried to calm me. He would walk slower, turn slower. He would look back at me to check if I was okay.
This photo, of us both smiling, was taken by Rachel. She decided to enter it in the San Bernardino County Fair. The title was "Don't Worry, Be Appy", after the then popular song, "Don't Worry, Be Happy". Rachel won a ribbon in the photo competition!
I have two strong memories of Diamond. First, was the day we had parked Rachel's car near the stall. It was a Honda, and had a number of defects - physical and mechanical. While brushing Diamond, he turned around and non-chalantly began defecating on the hood. His opinion made us laugh, and ironically, it was not long before Rachel got a different car. Second was another time brushing when he took a step back and painfully put his hoof on my foot. Not wearing sturdy shoes, it was very painful. I did not panic. I simply pushed his rear and said in a firm, probably squeaky voice, "move". He looked back and quickly lifted his hoof. He then turned and looked at me, probably expecting punishment. I just said "thanks". He nodded and then pushed me a little bit, his way of making sure I was okay.
Sadly, we lost Diamond in 2001. He had held his age well for a number of years, but as is often the case, when old age hit, it hit quickly. It was only a matter of days between the first signs and his end. It was one of the more traumatic losses I have suffered. His final day we watched him wither, near death, only to suddenly fight back. It seemed he was afraid of leaving Rachel alone. The struggle was painful for all. As Rachel would say, his spirit was freed from a decaying body.
I had known Diamond almost a decade. I always regretted that Diamond's size, and our income, did not allow him to live with us. But our visits were always filled with pleasure. Whether it was just to brush him out, let him see our new pups, or even take a ride.
My desk still has the photo of him smiling. And when I look at it, I just have to "feel Appy" and smile too.


---
Back To Archives
Back To Main Page