Frames of Time...
---
045_04 - Angry Beavers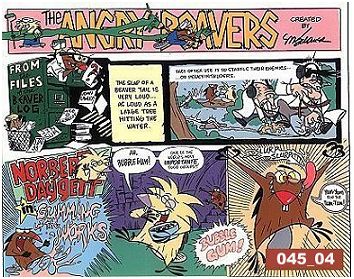 As mentioned here, I spent several years at Nickelodeon's Burbank studio. A majority of that time was spent producing the ANGRY BEAVERS series.
My experience with Mitch Schauer, creator of the series, went back almost a decade. Previously, I produced his first series at Film Roman, BOBBY'S WORLD. At Film Roman, I was frequently put on the first season of new shows to help get them started. I would then go back to GARFIELD AND FRIENDS due to the comfort level I gave Thom Huge (Jim Davis' key rep as well as voice of Jon and Roy).
When ANGRY BEAVERS began to spiral into production problems, the studio suggested a change in personnel. Mitch chose my name out of a list of candidates due to our past connection. Mitch also told the studio, unlike some producers, I understood the creative process and worked well with creative talent.
Upon my arrival, I met with the staff and found that a basic problem was that the series had stumbled a few times previously. (It had even been pulled from its first studio and put into the new Nickelodeon building.) The stumbles had caused the series to evolve into panic-mode production. Artists and production folks were constantly scrambling between many episodes, trying to pick up pieces and never really getting work done. Some were working 12-14 hour days. In spite of this excessive work schedule, new episodes were not being finished on any regular schedule. In fact, when I arrived, a new episode had not been delivered in six months. The network was concerned the production could not be saved, and might need to be cancelled.
My initial acts were to stop all overtime and to focus the crew on just two episodes. I then re-structured the schedule and tried to find as much remaining monies as possible to complete a new budget. As steady progress on those two episodes became visible to the staff, everyone began to relax and develop an internal rhythm. Mitch, interested in keeping the series going and the staff working, began delegating art chores and focused more on scripts.
Soon, ANGRY BEAVERS became the only series at Nickelodeon being delivered on time! The network was thrilled. The execs thought the newer episodes were getting funnier and funnier. But best of all, the creative staff frequently thanked me for bringing a calmer, more creative atmosphere to the production. (Anyone in the business knows you can't do your best, i.e. most creative, work when continually rushed.)
Mitch also relied upon my creative side. When we prepared to debut the special Halloween episode, an amazing tribute to 1950's sci-fi and horror films, I got the studio let us produce cloth "trick or treat" bags with the special's promotional art. I similarly created ways to increase crew morale, help the crew maintain Mitch's visual style, and help on developing promotional elements.
My biggest creative input was the writing of an Angry Beavers comic strip for an issue of Nickelodeon Magazine. The magazine had asked for a new comic strip. Mitch knew that I had written for the Bugs Bunny comic strip and turned the task over to me. I developed the concept, about the dangers of chewing bubble gum, which Mitch and the Studio liked. After I wrote the final script, it was drawn, inked and colored by members of the series crew.
Eventually, ANGRY BEAVERS began to come to a conclusion. The remaining episodes were nearing the end of pre-production. Mitch was working on a special episode that would spin off into a new series featuring the Beaver's younger sisters, as well as a direct-to-video movie based on "The War of the Worlds". I moved onto a series the studio felt would "need help", INVADER ZIM. (More on ZIM another day.) My assistant moved into my shoes to finish up BEAVERS.
Of interesting note, some have claimed the last few episodes of ANGRY BEAVERS have never aired. During my final days, I know the network was having some trouble with storylines in the final episodes. Mitch's love of parody sometimes met resistance from those less familiar with the media. Also, the network began to position itself more as a babysitting network where safety seemed to be overriding humor. Many series were having gags and material previously approved cut or re-worked to be more "family friendly". Perhaps those final episodes were just too clever.


---
Back To Archives
Back To Main Page