Frames of Time...
---
049_04 - VIZ An Alternate Anime History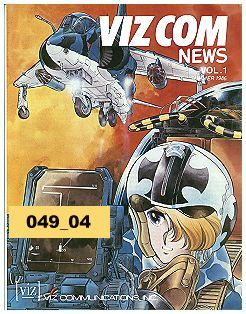 An artist who was leaving the studio had put out a box of items he no longer wanted. Folks moving or leaving often put out a "free stuff" box (as it is sometimes labeled) for others to pick through. I found a sampler for VIZ comics and was amused by the history given inside.
The tale told in their sampler is one of two young fans from Japan who eventually strike it rich in San Francisco through VIZ. This is certainly a good story, and one that can catch the eye of all aspiring entrepenuers. Unfortunately, it is not quite the origin of VIZ. I know because (drum roll) I was there.
The story of VIZ began in the mid 1980s when Shogakuken, one of Japan's largest publishing houses noted U.S. interest in Manga (Japanese comics) and Japanese animation (Anime was not quite a common term in either country) growing steadily. Shogakuken was home to many a key character in both Manga and Japanese animation including DORAEMON, URUSEITATSURA and AREA 88. A young, Japanese, female writer, who traveled regularly from Japan to the U.S. was able to convince them it was a good time to enter this new market.
The head of the company agreed and she then sought me out. She had known me for several years and felt I was the person to head up their new company, which Shogakuken had decided would be called VIZ. Since the Don Bluth studio was getting ready to move to Ireland, I agreed to talk. Company execs came out to meet me and were pleased with my knowledge of animation production, dealings in the world of comics, my contacts in entertainment and publishing and my fairly strong awareness of Japanese animation history. The end result was they gave me a one-year contract to bring VIZ to the U.S., and the title of Director of U.S. Operations.
First steps included setting up an office in Glendale. It was also a condo, something the execs insisted on so that they would not need hotels when visiting. From there the writer, a studio exec and I began making contacts all over. We talked with the folks at male-dancing Chippendales. Shogakuken was interested in licensing the brand in Japan. We talked with the Showscan people, as Shogakuken was interested in doing a CGI feature on the high-speed, 3-dimensional style filmmaking. We also had meetings with numerous entertainment groups about Shogakuken's huge character inventory.
However, all of this was merely build-up to the San Diego Comic Con where they would launch the name and begin bringing their product to the U.S. We quickly threw together a magazine, "Vizcom News". It was really more of a handout promoting what VIZ would do. (We had to move so quickly, we had to use my Get Animated! address for the address of VIZ on the back of the issue!) Sadly, by the time I was involved, they had already packed up their crates of books and they were on ships headed to San Diego. This meant I didn't have time to pick titles. The company had assured me they had only brought their most popular titles - which were largely romance and war titles. I told them their science fiction titles would have sold better in the U.S. However, we agreed we would do our best with what was coming.
Also at the con, we were to begin serious discussions with U.S. comic companies to begin translating the comics for an English market. To that extent, I began making contacts with major publishers. The writer began contacting artists and writers to assist in the conversion process. It looked like the two of us were going to make VIZ an instant hit. After all, not only did we have a huge library of product, we had tremendous financial backing from Japan and a lot of interest from local studios and publisher. But we were not "alone".
We did not realize that for the previous month or so, a son of a key exec, who lived in San Francisco, had been working behind the scenes. He had convinced key execs that San Francisco would be a better location for the company because it had a major port and a large Japanese culture. To show his skill, he had also begun to finalize a deal with a comic company in the U.S. When the Comic Con arrived, both the writer and I were blind sided by these events when they came up in one of the meetings with a publisher. It was the publisher who first made us aware when they stated they already had a handshake deal.
The writer and I quickly met with an exec from Shogakuken who then filled us in on the details. I reminded the exec that Los Angeles not only had a major port and a large Japanese culture (he had "forgotten" about Little Tokyo), but also was home to almost every entertainment company in the U.S. Hence this would be a much better place to promote Shogakuken's many properties. On top of that, I showed how the deal with the comic company was much less than some of the terms I had already discussed with other companies. In effect the deal discussed in the meeting was a slow moving process that was locking up their properties for years, and basically limiting their income. The deal was totally safe for Shogakuken and very inexpensive to the U.S. publisher. However, I warned such a deal would give competitors a chance to jump ahead.
The executive shook his head and said he was "sorry". He stated I was right, and the company had made a possible mistake. However, they had already made the deal with the comic company. They also said the company would be moving to San Francisco. If I wanted to, I could move up and still work for the company, but I would no longer be in charge. I told them that I did not want to move, and I did not really want to take a cut in position. The exec agreed and said they would honor my contract. For the remainder of the contract, I managed their Glendale office/condo and referred entertainment contacts to their San Francisco office, but VIZ basically just let the comic company publish their titles.
The end result was that VIZ grew slowly while other companies, who realized if Shogakuken was getting in the business it must be a good idea, came along. Today VIZ is one of many companies handling Manga and Anime. Since they are a success, Shogakuken probably has no regrets.
So in retrospect, I guess the origin story in the VIZ hand out has some truth. The current company is the result of two kids from Japan. But one must wonder what the company would be like today, and if the Anime boom might not have occurred sooner if Shogakuken's start had been left to an anime writer and animation producer instead of two fans.


---
Back To Archives
Back To Main Page