Frames of Time...
---
058_04 - "Hold That Tiger"... but gently!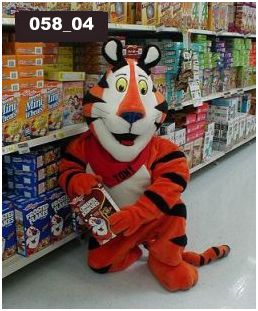 I have been having fun recently portraying Kellogg's famed tiger, Tony, at a series of WalMarts.
As I've written earlier, my suit performing days began at Disneyland. Since then, I've enjoyed donning suits for professional gigs and just for fun. In recent months I was also Felix the Cat and Astro Boy. In some sense Tony has been the most fun since the average person recognizes Tony, though a few times I was called Tigger. Felix and Astro Boy are targeted to one audience or another. Tony the Tiger can appear 24/7 on any channel.
There's a real joy to doing suits. Like the stage performer who enjoys applause from an audience, a suiter gets similar sensation when seeing someone's face light up at your appearance. In fact, more than just the distant audio appreciation from clapping, suiting allows direct contact with the shake of a paw or friendly hug. A person in a suit is automatically "one of the family".
But there is a downside to suiting, beside the obvious physical strains which include heat, restricted vision and restrained movement. I am talking about "mascot abuse".
During my recent Tony gig a youngster came up and attempted to violently rip my head off. They didn't know, and probably didn't care that the head is attached to me like a helmet. My neck is probably three inches taller now.
One quickly learns in suits that you are loved by the very young and the very old. In between is a coin toss. Some may think you are "neat" or "cool". (What irony!) Then there are those who want to beat, kick or maim you. Parents may want you to meet their child. Other parents will encourage their child to "go up and kick [fill in character name]". Suit horror stories from broken bones to knife wounds could fill many a column, and will be discussed another day.
Sadly, what is thought of as the actions of kids trying to show they are "grown up" is turning into a sort of amusement for the general public. Suddenly movies and TV shows find the idea of mascots injury as a source of comedy. From school traditions to beat the mascot, to a mascot suit bursting into flames, the amount of mascot injuries for entertainment is on the rise. However, of more concern to the working mascot/suiter is the lack of concern about real mascot abuse.
There was the recent tale of a baseball player who hit a mascot with a baseball bat. The mascot fell to the ground. The ball player's excuse was that it was all in fun. A number of the player's fans came to his defense. The end result was that the ball player gave the mascot an autograph. How could anyone think hitting a person with a baseball bat would be fun and would not cause injury?
Compare that to a recent incident in hockey where a player hit another player in the back of the head. The aggressive player used only his fist. Again, a number of the player's fans protested the idea that the player should be punished. The result of this case was the hockey player was suspended and faced possible criminal charges.
The only difference between these two incidents is that one victim was a mascot and the other was a popular sports figure. Mascots, like minorities, seem to be second-class citizens. The mascot performer is quickly replacing the mime as the most put upon performer.
I must admit, this is a hard issue for me. On one side, I am angered when special interest groups complain they are being unfairly treated in the media as the butt of jokes. But jokes about stereotypes are different than physical harm. It is one thing to be offended by a joke about fat people being jolly. It is another to watch that fat person by beat with sticks or set on fire simply because it might get a laugh.
One often hears a cry for tolerance, and to avoid judgment or discrimination based on color, faith, age or sexual preference. I would like to amend that list to include "costume".


---
Back To Archives
Back To Main Page