Frames of Time...
---
070_04 - Harrison Fisk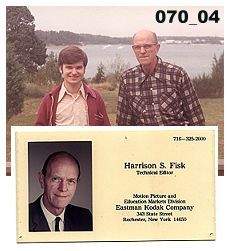 From the late 1960s through the 1970s, I was collecting movie posters, often called "one sheets". My search for these oversized (27x41 inch) treasures brought me face to face with a gentleman who not only loved movie history; he grew up during it.
At first, Harry Fisk was mainly a source for some wonderful posters, particularly cartoon short subjects. As time progressed, we became regular correspondents, at one point exchanging several letters a month. There was even a time we switched to audiocassettes in an effort to save typing time.
As I said, Harry grew up with films. In his childhood he would go to the cinema and see the classic silent films as they debuted. His favorite actor was Douglas Fairbanks. Harry idolized the silent star so much, after seeing Fairbanks in THE MARK OF ZORRO, Harry taught himself how to handle a whip! As sound and other aspects came in, Harry remained a fan of the cinema collecting posters, lobby cards and even films (16mm, 8mm & Super8).
Our letters were full of rambling talks about film, film stars and film history. I remember how his memory of screenings opened my eyes to what it must have been like to see such an art form develop from the start.
He mentioned that, with the exception of 3D movies in the 1950s, all advances in film technique had been done by the late 1920s. Sound, widescreen, and color were all utilized before 1929. He remembered the first time a film jumped into a flashback. People in the theater thought the projectionist had put on the wrong reel!
Harry came from an era when an individual would work for one company his entire life. His interest in film led him to a career with the Eastman Kodak Company. While there he was involved with a variety of divisions, including the "home movie" market. He talked of Kodak's survey in the 1950s that discovered home movies did not remain popular with families because it was too much trouble to pull out the projector, set up the screen, show the film and put everything away.
While at Kodak he also recalled seeing early prints of the films Hollywood stars made for the servicemen during World War II. His favorite was Abbott and Costello doing "Who's On First". Harry stated around half way through the routine, Costello paused. The comic then leaned towards the camera and gave a wink. Harry said it was as if Costello was letting the audience know he wasn't fooled at all.
After we had corresponded for several years, I actually went East and visited with him and his lovely wife Irma. While there we spent days looking through his huge collection of movie material. He even took time to demonstrate his skill with a whip. By night we watched hour after hour of silent films. Many of the films were still great (THE GENERAL, MARK OF ZORRO, DON JUAN, etc.), and he gave commentary on the stars and times of the film. This was decades before such a concept appeared on laserdiscs and later dvds.
As distant friendships often do, our correspondence became less and less. We were both getting busier. By the late 1980s, we had dropped to the irregular Christmas cards of family news. By the early 1990s, even the cards stopped coming. Knowing his age, I concluded he had joined the long gone silent film stars he loved.
While tuned to Turner Classic Movies the other night, I saw a silent movie and immediately thought of Harry. Harry felt he was lucky to have lived through so much cinema. He felt lucky that he could collect movies on film to share with people. He felt lucky to have seen an age when home video allowed anyone to own and share movies. And I was lucky to have shared a few of his movies and hours.


---
Back To Archives
Back To Main Page