Frames of Time...
---
073_04 - A pair of dads...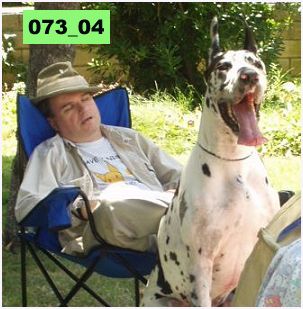 Here I am at a recent dog show. The smiling fellow in front of me is Roku, our daddy Dane. My wife, Rachel, and I raise and show Great Danes. More accurately, Rachel raises and shows the kids. I am not quite "into" the world of dog shows. You can read specific comments on dog shows here.
Our kids entry into the show world was not my first interaction with dogs of pedigree and dog show folks. That happened when we purchased a sweet Cocker Spaniel in the early 1970s. We called him "Bumblebee" because he ran around like one. His registered name was Jacko Domino Socks, combining elements of his parents. The breeder told us he was "pet quality" and not suited for shows. Ironically, a few years later we ran into her and she saw that Bumblebee had grown into a fine fellow and suggested we give him back to her and she would give us a new puppy! We turned down the offer.
Basically, I do not enjoy dog shows and the folks one finds there. Going even farther, I do not enjoy the work of the AKC. All seem more interested in rules, awards and shows than in the treatment of one's pets (or "kids" as ours are). I am always enraged when a dog gets loose at a show and the announcer tells the attendees that they should "check your stock" to see if one was missing. "Stock"? To these folks dogs are cattle not pets.
Of course there are many exceptions. Many breeders are honestly interested in maintaining a healthy breed. Breeders are often involved with nutrition and medical studies. Thanks to our working with others we have moved our kids onto a "fresh food" diet (a nice way to say "raw" or "barf" diet). This diet has helped a number of our kids overcome health problems caused by kibble. Other breeders work with the legislature to ensure pet laws that benefit both pet and public.
But those shows. Whew. They are like appearing in a boring soap opera. Like in show business, there is lots of hurry up and wait. Those showing dogs stake out locations to set up their pens and canopies with the same ruthless zeal that prospectors stake out a gold claim. Viewers sit around the rings and whisper about the dogs that are good, the owners that are ignorant, the professional handlers that don't understand dogs, and the poor selection of complimentary snacks.
Like any alternate society, there are terms and rules that "outsiders" like me can hardly understand. They speak of the pedigree of their dogs that are as tangled as the royal families of Europe. It seems as if a dog can be a nephew, uncle, grandfather and brother of another dog. I don't know if even DNA could solve the puzzle. Then there is the discussion of dog parts and what is good and bad. And like any good discussion, even though there are "rules" of appearance, no two folks can seem to agree what makes a good-looking dog.
The shows are long, aggravating and dull. But there I sit, well, nap. Why do I go? To support Rachel. It is important to her, and thus it is important to me.
Rachel wants to show folks that not only are our kids worthy of their attention, but that we are also worthy of having such dogs. She took this photo coming back from having done just that. Our first born son, Eagle, won first place in the "bred by exhibitor" category. The group that shows not only did you breed the dog you are showing, but that you are proud that you bred the dog. (Too many folks hide on the sides as a professional handler tries to cover up their dog's faults.) Eagle has also won a 3-point major from the "bred by" class earlier this year.
I am proud of both Rachel and Eagle winning the prize. However, I am proud of all of our kids. Our focus in breeding, besides good-looking Danes, is temperament. Something we have already proved with some of our kids being placed in homes as service dogs. Service dogs, like dogs for the blind, assist folks with handicaps lead a better life. No amount of ribbons and trophies will take those prizes away. No wonder Roku is smiling.


---
Back To Archives
Back To Main Page