Frames of Time...
---
075_04 - The Old Movie Theater and
Motion Picture Hall of Fame...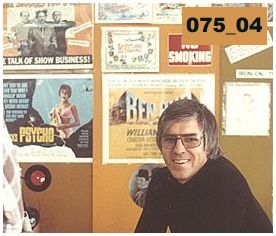 In the early 1970s, I worked with Doug Wright (pictured at left) at The Old Movie Theater and Motion Picture Hall of Fame. This prestigious sounding facility was housed in a converted banquet room behind a motel across the street from Disneyland.
Doug Wright had been involved with promotions of movies. His interest and love of movies led him on a quest to create a museum of movie artifacts. At the time, there were numerous folks who had similar ambitions, perhaps the most famous being Debbie Reynolds. Everyone was acquiring materials from classic films in the hopes of someday having someplace to exhibit them.
Deciding to move ahead with the dream, Doug set up this facility in Anaheim. The room was half museum and half theater. Though the museum space was limited, his idea was that playing classic films in the theater would attract visitors and help raise funds for a future actual museum.
The museum's collection was quite nice. It ran from antique film equipment (cameras and projectors) to memorabilia (posters, photos and lobby cards), to props (clothes and guns) to special effects. The most amazing effect item was a skeletal structure for KING KONG built by Willis O'Brian!
I discovered the theater, as Doug had planned, by attending a screening. This was back in the days prior to home video, when the only opportunity to see uncut and obscure films was at a limited number of "revival" houses. What made Doug's shows unique was that he would make it a complete experience from the past with cartoons, serials, and shorts with the feature. Soon he and I found we were always talking during intermission. I began assisting him in scheduling, brain storming and eventually became manager of the facility. He even invited me to my first "Hollywood party", a star-studded fund-raiser at Debbie Reynold's home.
One of our biggest screening cous was when Doug was able to obtain the rights for us to show the Marx Brothers' "lost" classic ANIMAL CRACKERS. This second Marx Brothers feature had been unseen for decades due to various rights issues. Doug talked to all the parties, including Groucho, and got the film. For three weeks we showed it to sold out houses of film students, historians and even some elder film stars in the area.
Doug kept promoting the museum aspect with a variety of alternate funding ideas. He began a series of tributes to folks from Willis O'Brien to the Three Stooges. He launched a series of collectibles shows. He even tried opening a sister theater in Hollywood on Sunset Boulevard.
Sadly, by the end of the 1970s, he had not succeeded to build upon his humble start. The Old Movie Theater and Motion Picture Hall of Fame closed. He continued with his collectible shows and was around at various tribute events.
The last I heard from him was shortly after the Northridge earthquake (1994). He was looking for assistance in documenting his collection. It had been stored in large facility that happened to be under the section of the 10 freeway that collapsed. Most of the collection was destroyed beyond recognition.
Since the 1990s, there have been a revived interest in film history, thanks largely to the home video market. There has been a museum on Hollywood Boulevard, Planet Hollywood restaurants and Debbie Reynold's Las Vegas venue. All tried to preserve and present the history of film to the public. Even those that have succeeded haven't topped the heart and drive that Doug brought to the table during a time when studios destroying sets and props was common practice.


---
Back To Archives
Back To Main Page