Frames of Time...
---
078_04 - Dane and Dean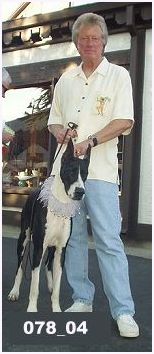 Here's a photo of our youngest Great Dane, Luca, with Dean Torrence, of the famed musical duo Jan and Dean. The Hall of Fame musician was appearing at the local 4th of July celebration. After his standing ovation appearance, he was taking some time to sign autographs and talk to the fans. When he saw Luca he stopped to pet her. He then told Rachel how he had had a Dane when he was younger, named Bogie. For a few moments he reminisced about his lost companion.
What is it about Great Danes that so touch one's heart that the sight of one brings back such vivid memories? Rachel and I have found it to be a common fact, that when walking our kids, folks will come up to us and tell us a story about the Danes they once owned. Often, it is someone of retirement age, recalling a companion from decades earlier. The breed is so people oriented; they tend to become a permanent part of one's life.
As mentioned, this was not the first time. Several years ago Frankie Avalon was a "guest" judge at our "Strut Your Mutt", a contest for local dogs that include prizes for such talents as "best wagger" and "best costume". That year our commercial star Baron was appearing in the best costume category. When he went up to Frankie, the former teen heart-throb had to take time out to talk about a Dane he had when very young, and how special the pet had been. Rachel asked Frankie if he wouldn't mind a kiss. He looked at Rachel, smiled and said he would be happy to receive a kiss. At that moment, Rachel let Baron give Frankie a big Dane kiss. Frankie's shocked look certainly showed that it wasn't Baron he was expecting a kiss from!
At an animation show, Rachel and I ran into June Foray. She took time out to discuss her Great Danes. I had remembered them on some of my earlier visits with June. After talking about her love of the Danes, she admitted she had gotten away from Danes and then had Boxers. For June, it was simply a matter of size. June is a diminutive lady of around 5 feet. Her Danes probably outweighed her two to one!
I've had a fair number of canine companions through the years. We still have Nikoma, our Akita. Even though walking them brings attention, none have brought the flood of warm memories from people that our Danes have. Whether celebrities or regular folks, Danes touch them all.


---
Back To Archives
Back To Main Page