Frames of Time...
---
080_04 - Backstage at Disneyland...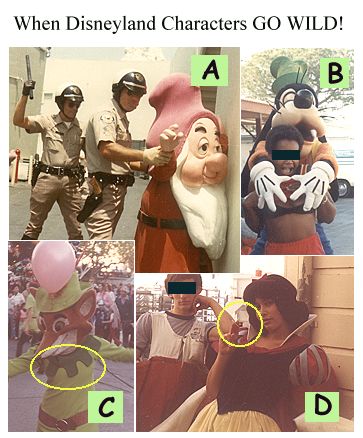 With the Walt Disney World Tigger molestation case now in the past, I finally found my photos showing what really happens when characters go bad!
Actually, three of these photos were taken back stage in the character break area. All were posed for laughs... and we had plenty. Working in the Disneyland character department back in the 1970s was a time when there was still some magic to working at Disneyland. The average Summer found Disneyland having to turn away hundreds of applicants who wanted to work at "The Happiest Place on Earth". Even the opportunity to sweat in a costume attracted a crowd. At character and parade try-outs one might have seen as many as 200 try out for as few as a dozen openings.
If the photos are not quite clear enough, here is what is on view...
A - "Sleepy Busted by Anaheim Police!" One of the typical "gags" heard around Disneyland was that Sleepy, the dwarf, was really "doped up". For laughs, I asked the Anaheim police folks to pose for this photo. The police were frequent visitors backstage. Park policy was to be open and friend to the force. This kept them around the Park and helped keep undesirable types away from the property.
B - "Goofy Chides Tigger, 'You Call THAT a Grope?'" Here two friends have a bit of a laugh showing off Goofy's extremely large, and highly visible hands. Again, this was back stage and out of sight of all guests!
C - "Robin Hood Sex Change Evident!" Here is the only photo taken in the Park. Despite the sex of the character, the performer's sex may not always match. Costume assignment is based on height, not gender. At various times I played Bernard and Bianca, as well as Mr. Easter Bunny and Mrs. Easter Bunny. Most of the times, the only way a guest might guess a performer's sex is by virtue of a handshake that seems a bit manly for Minnie Mouse, or less manly for The White Rabbit. Other times, such as in this shot of Robin, it is apparent that the performer has breasts. The young lady, who did not regularly play the Sherwood Fox was quite "chesty", and in some poses, such as this twist, Robin proved to be quite built.
D - "Snow White Remains Smokin' Hot!" This photo shows one of the 70s Snows in the back enjoying a cigarette with an appropriately wicked look. In reality, this lady was one of the best Snows in the Park and won a department award for her teamwork with the Dwarfs. One thing we initiated was to have Snow tell the Dwarfs a story. After marching to a point in the Park, we'd all sit down and Snow would relate a small tale from the film. It actually was designed as an "easy" set for us, but the crowd and kids loved it. The Park soon began asking other Snows and face costumes to do similar story times.
Hopefully, none of these stories will ever really appear in the press. Though in today's "sue-happy" environment, who can tell?


---
Back To Archives
Back To Main Page