Frames of Time...
---
084_04 - What happens in Las Vegas...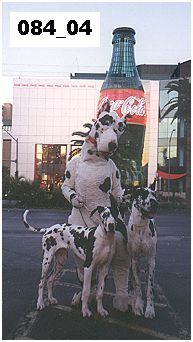 Here is my wife and our "foundation" Danes in front of the Coca Cola museum in Las Vegas. We were attending a dog show at the time and for fun one night she put on her Dane costume and we walked the streets.
Las Vegas is a great city. You can do about anything and attract very little attention. Several years earlier, I was promoting one of my books at a book trade show. One day I decided to attend in costume. The hotel was several blocks away. Rather than fuss with cabs and such, I simply walked. On the way I got a number of auto horns and shouts of "hello". However, as I walked down the sidewalk, aside from plenty of smiles, I got few signs of shock from anyone.
On this trip, Dane, Roku and Star wandered around a number of sights from Ceasers Palace to MGM Grand. We wanted to make sure we got a shot in front of the Coca Cola museum because it was one of our favorite stops at the time. Inside you got to see a "history" of Coke. But even better was a top floor where, for around $5 you got all you could drink of all the sodas Coke made and sold around the world. Most of these flavors were created for a specific national market. One of the best was a pear flavored soda. I believe it was made and sold in South America.
Sadly, on a later trip we discovered the museum was no longer open to the public. Rather it was being used as a location for private and corporate parties. Very sad. Of course Vegas is a city in constant change. As a friend once mentioned, a hotel over 10 years old is no longer considered 'hot'.


---
Back To Archives
Back To Main Page