Frames of Time...
---
085_04 - gotta catch 'em all...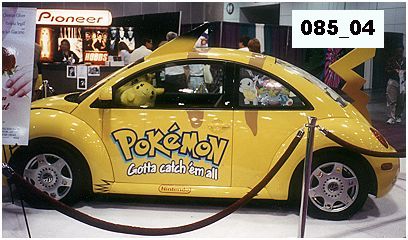 In the Fall of 1998, the animated series POKEMON hit U.S. TV and some say the anime exposion began. Prior to that, the series main fame was that it had caused mass epileptic fits during one broadcast in Japan.
Months before that US debut, Rachel and I saw them at a trade show in Las Vegas. We were attracted to the booth because around every hour, speakers would start playing the theme song. At the end of the song, hundreds of Pokeballs would explode out of the display. The balls were soft Pokeballs, around 2 inches in diameter. When unzipped and reversed it became one of several Pokemon. Quite nifty. It made Rachel and I head back every time we heard the theme. Think we came back with over a dozen of the little gems.
That started us one our own little quest for Pokemon. We became players of the card game and each have several decks. We also collected a sizable amount of merchandise ranging from figures to stickers to pins. Rachel became somewhat of a 'master' with the various videogame versions. My favorite is still Pokemon Puzzle, one of the best variations on the old Tetris mold. We still watch the series to this day.
When the series had become a true phenomenon, I grabbed this photo. It was at a video trade show, also in Vegas. At the time, Pioneer was selling millions of the videos. Though many say the fad is over, it still attracts millions of viewers. At a recent trip to Disneyland, we were wearing our pin trading lanyards. Rachel has a Pokeball (from the ill-fated Burger King kids' meals toys) hanging from hers. Folks of all ages make note of it, and then state they wish they had one.


---
Back To Archives
Back To Main Page