Encyclopedia of Cartoon Superstars
by John Cawley & Jim Korkis
Back To CARTOON SUPERSTARS
Back To Books Page
Back To Main Page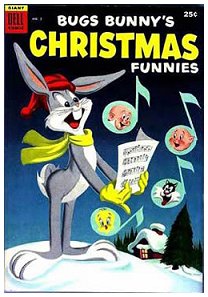 Bugs Bunny

Superstar Summary
THE STAR: Bugs Bunny
YEAR OF DEBUT: 1940 (A WILD HARE)
STUDIO OF DEBUT: Warner Brothers
SIGNATURE: "Eh, What's up, Doc?"


KEY CREW BEHIND THE STAR: Mel Blanc (voice), Tex Avery, Bob Clampett, Chuck Jones, Friz Freleng (directors), Warren Foster, Rich Hogan, Michael Maltese, Tedd Pierce (writers)

CAREER HIGH: THE BUGS BUNNY SHOW (1960) a prime time cartoon show that was entertaining for its combination of classic Warner shorts and new story framing animation.


---
Bugs Bunny is one of those characters whose great success in so many different forms almost propels him above the rank of cartoon superstardom. Just as Mickey Mouse has come to represent the entire Disney organization, Bugs has achieved a similar recognition as the "top carrot" of Warner Brothers. His value as a character is so high that Warners was able to demand that Bugs get equal screen time with Mickey Mouse in WHO FRAMED ROGER RABBIT? (1988). A national survey in 1989 discovered that Bugs Bunny was the most popular character in the 18-49 age group category.
More so than some other characters, there are many different Bugs Bunnys. When people say they love Bugs Bunny, they are not necessarily talking about the same character. There are differences between the more elastic and aggressive rabbit of Bob Clampett and the intellectual counter-revolutionary of Chuck Jones and the more action oriented bunny of Friz Freleng. Other directors including Ben Hardaway, Tex Avery, Frank Tashlin and Bob McKimson also produced significant variations.
Originally, Bugs was a squat, wild, hyperkinetic rabbit not much different from other wacky characters. It was quite reasonable to assume that his natural habitat was an insane asylum. Gradually, the character matured into a taller, more confident gray bunny who was more in control of himself and the situation. In various cartoons, he still might waver between being the aggressor and the victim who retaliates but certain key elements seemed intrinsic to the character.
He was a character who could wield the spoken word with the skill of a surgeon's knife. He could triumph by fast talking a confused antagonist, substituting a pronoun or assuming an accent. While many other characters depended on pantomime action for their humor, Bugs combined that virtue with a facility for language unmatched by other cartoon personalities.
It was not just his vocabulary and vocal speed that gave him an edge. It was his attitude. His voice suggested the image of a stereotypical, sarcastic New Yorker. It was part argumentative, part disbelieving and part self-assured. This confident, fighting spirit is reflected in two of Bugs' favorite phrases: "What's up, Doc?" and "Of course you know this means war!" (The latter borrowed from Groucho Marx.)
Bugs loved disguising himself as different characters. These impersonations were amazingly effective whether he took on the identity of a policeman or a little old lady. In particular, Bugs loved to cross dress as a woman, a longstanding tradition among many popular live action male comedians. The early cartoons often used gags with Bugs attired in a bra. Later cartoons usually kept him more fully dressed as a woman with elaborate wigs adding to the overall illusion.
Bugs' sexuality has been a subject for some discussion. He seemed to delight in giving his male antagonists long, big, wet kisses directly on the lips. This action might be just another way of Bugs establishing his superiority by violating his foe's private space. He also had a predilection for female disguises and would adopt a female attitude or expression at a drop of the pants. Some state it indicates a possible homosexual preference.
However, Bugs definitely had a heterosexual side. In HOLD THE LION, PLEASE! (1942) he is married to Mrs. Bugs Bunny (who literally wears the pants in his family). This makes Bugs one of the few cartoon Superstars to actually have a "wife." Other shorts showcase his efforts to get a lady. In HARE SPLITTER (1948) he battles another rabbit to date "Daisy Lou." (Of course before the short is over, Bugs has dressed as "Daisy" to trick his rival.)
Sometimes the lady is not what he expected. In THE GREY HOUNDED HARE (1949) the girl is the mechanical guide for racing dogs, while in HAIR-RAISING HARE (1946) it is a female rabbit robot. (In the latter, upon discovering this fact, Bugs states, "so it's mechanical" and quickly follows after her/it.) There are also several shorts in which Bugs has a number of offspring indicating he could multiply as well as any rabbit. In later years, the comic books introduced a girlfriend for Bugs, Honey Bunny, but she was so unmemorable that even the Warner staff couldn't establish a definite personality for her.
As Bugs evolved, he became smarter and smarter. Rarely did Bugs lose the battle in the final shot although it did happen. Generally, Bugs was able to step aside calmly. He allowed his antagonist's own force and speed to backfire against the enemy. The humor came from what happened to the foolish character who challenged Bugs, not from what happened to Bugs, himself.
THE BIRTH OF THE BUGS
Unlike most other cartoon superstars, the creation of Bugs was not just the vision of one man or even a handful of men. Bugs owes his development as a superstar to more than a dozen talented animators, designers, writers and directors.
The spark behind the Oscar winning rabbit can be traced as far back as the African folk tales which recounted the adventures of a trickster rabbit. The point of these various stories was that a smaller animal through its quickness of mind and body could get the better of larger, more physically powerful and dangerous animals. This trickster rabbit, like Bugs, is a mischief maker with a good sense of humor. Usually, he only caused problems when his well-being was threatened.
It was not surprising that such a character would hold a special appeal for the slaves brought from Africa and placed in a situation where only their swiftness of wit could save them from the cruelties of their new masters. Supposedly, these stories of a trickster rabbit eventually evolved into Uncle Remus' more famous tales of B'rer Rabbit.
In terms of animation, some writers have suggested that the immediate inspiration for Bugs Bunny was Max Hare in the Disney cartoon short THE TORTOISE AND THE HARE (1934). However, that brash, cocky character bears little relation to the smaller, wackier bunny who eventually became Bugs Bunny.
The earliest version of Bugs Bunny appeared in Warners' PORKY'S HARE HUNT (1938) directed by Ben Hardaway and written by Howard Baldwin. Hardaway's nickname was "Bugs" and the model sheet identified the rabbit as "Bug's bunny." Two years later, when it became necessary to name the rabbit, "Bug's bunny" became Bugs Bunny (minus the possessive apostrophe). Hardaway had a particular inclination for wacky characters, having been involved with the early Daffy Duck and later with the first Woody Woodpecker.
PORKY'S HARE HUNT is similar in spirit to Tex Avery's PORKY'S DUCK HUNT made the previous year which introduced the character of Daffy Duck. This time, instead of a darn fool duck, Porky the hunter is confronted with a pixilated rabbit. The unnamed hare is as physically and vocally insane as the early Daffy Duck. Some of the classic Bugs Bunny character elements appear in this cartoon, including his ability to do magic, to perform histrionic death scenes and the phrase "Of course you know, this means war!"
Other versions of this little white bunny appeared again in 1939. PRESTO CHANGE-O, directed by Chuck Jones and written by Rich Hogan, had him tease a dog using a magician's tricks. HARE- UM SCARE-UM, directed by Hardaway and written by Melvin Millar, found him heckling a hunter who was trying to beat the high cost of meat. However, the character was still too goofy and annoying to be considered a potential star.
It was 1940 that really defined the character and established the basic personality that would launch the character to stardom. First, there was ELMER'S CANDID CAMERA, directed by Chuck Jones and written by Rich Hogan. This cartoon established the relationship between Bugs and Elmer Fudd that would provide the springboard for many memorable cartoons.
More important was Bugs' second appearance in 1940. Tex Avery took all the good elements from the previous versions and mixed them with his own unique humor to "create" the character most people would recognize as Bugs Bunny. He, and writer Rich Hogan, made the rabbit smarter and more in-control of himself and the situation in A WILD HARE. One particular item that marks this cartoon as a true beginning of Bugs is the inclusion of the famous line, "What's up, Doc?" It was a phrase that was very popular at the Texas high school Avery had attended.
A WILD HARE, which was nominated for an Academy Award, had Elmer hunting for "wabbits." Unfortunately, the rabbit he finds is Bugs Bunny. Compared with later efforts, Bugs' tormenting of Elmer is mild. It is a Bugs who is now colored in his familiar gray and has been redesigned to look less grotesque, taller and more expressive. This new design was created by Robert Givens.
Also key was Mel Blanc's voice. A mixture of the Bronx and Brooklyn, Mel's original voice work helped to establish the cockiness and brashness of the character. Mel had previously provided goofier voices for the rabbit in some of the earlier shorts. (One of these included the gooney laugh Mel would also use for Woody Woodpecker.) By 1940, though, Mel's interpretation was very close to the classic Bugs' voice. Blanc would refine it over the years and be the official voice of Bugs until Mel's death in 1989.
Avery established the basic ground rules for the character and the series. Oddly, he only directed three more Bugs Bunny cartoons before leaving Warners. In those few shorts, he established the foundation of the cool, impudent hero with a jaunty walk and cigar-like carrot for further exploration. Within the next few years, other directors like Chuck Jones, Friz Freleng, Bob Clampett and Frank Tashlin would expand and refine the character. These directors were assisted in this development stage by many key writers at Warners, notably Tedd Pierce, Warren Foster and Michael Maltese.
Bugs Bunny was introduced to the public by name for the first time in the opening titles for ELMER'S PET RABBIT (1941). Elmer makes the mistake of purchasing a supposedly timid rabbit who eventually takes over his house.
WABBITS! WABBITS! WABBITS!
It was just the beginning of a series of classic cartoons featuring the new star. Each animation unit at Warners was assigned a certain number of Bugs Bunny cartoons to churn out each year in addition to a number of undesignated shorts. As a result, in a year like 1942, there were as many different types of Bugs Bunnys as there were directors who worked with him.
THE WABBIT WHO CAME TO SUPPER (1942), directed by Friz Freleng and written by Mike Maltese, had Elmer inheriting $3 million dollars with the restriction that he couldn't hurt animals, especially rabbits. Bugs immediately moves into Elmer's house and makes himself a pest. THE WACKY RABBIT (1942), directed by Bob Clampett and written by Warren Foster, has Elmer prospecting for gold in the desert and discovering that the only gold is in the gold tooth in his mouth. CASE OF THE MISSING HARE (1942), directed by Chuck Jones and written by Tedd Pierce, has Bugs disrupting the magic act of Ala Bama.
While each cartoon featured a recognizable Bugs, each cartoon also had distinctly different styles and points of view. Freleng's cartoon was a series of straight action gags like Bugs running down stairs to a darkened basement. ("Don't go down there... it's dark!") Clampett's cartoon explored more grotesque territory with Bugs wearing a dried skull to talk to Elmer. Jones' cartoon emphasized that Bugs was only being disruptive because the fat magician had laughingly smashed a blackberry pie in Bugs' face first.
The differences were not consciously noticed by a general audience yet each approach served to develop aspects of Bugs' personality and behavior that blended together to create the familiar image known today. In 1942, Bugs was most frequently seen in a short animated trailer with Porky and Elmer asking the audience in song "Any Bonds Today?" It was a plea to purchase war bonds to help finance the U.S. armed services.
Just as sound had helped make Mickey Mouse a star, World War II catapulted Bugs Bunny into being the new American hero. The Bugs of the Forties captured the energy and flippancy of his time. His wisecracking antics that always defeated the stupid little man with a gun made him a symbol of America's resistance to Hitler and the fascist powers.
Some of Bugs' cartoons directly addressed the situation like BUGS BUNNY NIPS THE NIPS (1944) where Bugs very violently defeats an island full of Japanese soldiers. Other cartoons of the same era stuck to more traditional concepts like THE OLD GREY HARE (1944) which showed an aged Bugs and Elmer of 2000 A.D. reminiscing about their first chase as Baby Elmer and Baby Bugs.
After the war there was no lessening of Bugs popularity. In fact, decades before WHO FRAMED ROGER RABBIT? (1988) Bugs was appearing in films with live action performers. In TWO GUYS FROM TEXAS (1948) he pops out of a rabbit hole to help the hero of the movie, Jack Carson. In MY DREAM IS YOURS (1949), Bugs sings and dances with Jack Carson and Doris Day.
In the mid Fifties, Bugs character finally settled into the familiar mold that most people think of when they think of Bugs Bunny. "He had the intellect of Groucho combined with the zaniness and oddity of Harpo," commented director Chuck Jones comparing Bugs to two of the famous Marx Brothers comedy team. Bugs usually started out in an environment natural for a rabbit. Instead of provoking a fight, he now only fought back if someone was trying to disturb him or hurt him.
The Bugs cartoons of the Fifties produced many memorable gems including the trilogy of cartoons with Daffy Duck based on "Duck Season! Rabbit Season!" Also from the Fifties was Bugs only 3-D cartoon, LUMBER JACK RABBIT (1954), where he wandered into Paul Bunyan territory and discovered giant carrots. WHAT'S OPERA, DOC? (1957) was one of the most elaborately produced cartoons of all time and parodied opera. Bugs also had a significant cameo in DUCK AMUCK (1953) as an animator. Perhaps the crowning achievement for the bunny was winning his one and only Oscar for Friz Freleng's KNIGHTY KNIGHT BUGS (1958), written by Warren Foster, where Bugs outsmarts a dragon and Yosemite Sam.
BUGS BUNNY'S PRIME TIME
Bugs Bunny cartoons started appearing on TV around 1956 thanks to a syndication package acquired from AAP which included 53 cartoons starring Bugs Bunny. Their success was amazing and it prompted ABC to try a prime time series featuring the Oscar winning rabbit. THE BUGS BUNNY SHOW premiered on ABC in October 1960 and ran for two seasons. It was written and produced jointly by Chuck Jones and Friz Freleng, two of the few remaining "original" directors left at Warners. The half hour show included three existing cartoons framed with new animation that tied the three shorts together.
In September 1962, the show moved to Saturday mornings where in various formats (THE BUGS BUNNY/ROAD RUNNER HOUR, THE BUGS AND TWEETY SHOW, etc.) it has remained one of the top rated shows for almost three decades.
The last Warners Bugs cartoon was FALSE HARE (1964) about the Big Bad Wolf wanting Bugs for dinner. Warners officially stopped releasing new cartoons in 1969. Bugs' cartoons in syndication and on Saturday morning were still drawing audiences in the Seventies and it caught the attention of an independent film maker named Larry Jackson. In 1975, under the banner of Hare Raising Films, Inc., he released a feature entitled BUGS BUNNY SUPERSTAR, featuring several classic Warner cartoons with Bugs, surrounded by documentary footage and new interviews with Freleng, Avery and Clampett. The attention this feature received did not go unnoticed and Warner veteran Chuck Jones was contracted to bring Bugs back to TV in a series of new half hour specials as well as a full length animated film.
For TV, Jones was responsible for all new footage for CARNIVAL OF THE ANIMALS (1976) and A CONNECTICUT RABBIT IN KING ARTHUR'S COURT (1978). His feature film compilation, THE BUGS BUNNY ROAD RUNNER MOVIE (aka THE GREAT CHASE and THE BUGS BUNNY- ROAD RUNNER GREAT CHASE), in development for several years as either a feature or TV special, was released theatrically in 1979. It showcased some new footage of Bugs giving a tour around his mansion and reminiscing about his career, although the majority of the feature was a collection of Jones' Warner cartoons.
Compiling previously shown cartoons with new wraparound, unifying animation was not new for Bugs. Beginning in 1977, several Bugs Bunny half hour specials for TV featured old Warner shorts, often edited to squeeze into a new, forced storyline. BUGS BUNNY'S EASTER SPECIAL and BUGS BUNNY IN SPACE both followed that format and premiered in 1977. Warners produced an additional 15 specials with Bugs ending with BUGS BUNNY'S WILD WORLD OF SPORTS in 1989. During this time, Friz Freleng would direct three more compilation theatrical features, all with old Bugs Bunny cartoons mixed in with flimsy new storylines.
While animation fans complained about the editing of the classic cartoons, these efforts kept Bugs and his buddies highly visible and merchandisable. Adding to that visibility were the many public service spots and commercials with Bugs. (Tex Avery, working at his own commercial animation studio, directed the Kool-Aid spots with Bugs.)
In 1985, Bugs received his own star on the Hollywood Walk of fame. The Fall of that year, he was also featured in much of the art at a special exhibit at New York's Museum of Modern Art. The four month event was in honor of the 50th anniversary of Warner's cartoons (tagged to Porky Pig's debut). A TV special, BUGS BUNNY/LOONEY TUNES ALL-STAR 50TH ANNIVERSARY, marked the event. TV and movie personalities detailed fictitious accounts of the Toons while creators, such as Friz Freleng and Chuck Jones, added historical insight.
Bugs Bunny helped present, in animated form, the Academy Award to the Best Animated Short in 1987 and 1990. (The latter featured an entire new animated sequence where Bugs explains animation.) His appearance in WHO FRAMED ROGER RABBIT? (1988) stole the scene from Mickey Mouse as they both talked to falling detective Eddie Valiant.
HALF CENTURY HARE
Bugs 50th birthday celebration in 1990 prompted many new projects. 50 YEARS OF BUGS BUNNY IN 3-1/2 MINUTES kicked off the celebration as a short released with NATIONAL LAMPOON'S CHRISTMAS VACATION (1989) in selected theatres. The short was a series of clips compiled from dozens of Bugs' shorts. Warner Brothers prepared a prime time network special featuring a number of live action stars (from Hulk Hogan to Whoopi Goldberg), classic animation and original animation.
Steven Spielberg committed to a new animated project dubbed TINY TOON ADVENTURES which featured the famous Warner characters along with younger versions resembling Bugs and his buddies. In the Fall of 1990, Warner planned to release MERRIE MELODIES STARRING BUGS BUNNY AND FRIENDS, a package of 65 half hour episodes for national syndication featuring classic favorites along with cartoons previously unreleased to syndication.
The year also saw Bugs appear in a special drug prevention cartoon entitled CARTOON ALL STARS TO THE RESCUE, as well as an appearance on THE EARTH DAY SPECIAL (ABC, April 22, 1990). Author Joe Adamson produced a book devoted solely to Bugs' career.
However his crowning achievement in 1990 was his return to the big screen in BOX OFFICE BUNNY, the first new Bugs Bunny theatrical cartoon since 1964 The short found Bugs pursued by Elmer through a multi-theater cineplex built over the rabbit's hole. The short was directed by Darrell Van Citters and written by Charles Carney. It featured a new voice for Bugs, Jeff Bergman.
BUGS' BUDDIES
Elmer Fudd is a bald, mild mannered, middle aged character with a distinctive speech impediment. Usually, he is cast as a hunter which made him a natural adversary for Bugs. However, Elmer had no skill at hunting and is genuinely upset when it appears he has actually shot Bugs. Elmer is no challenge for Bugs. There are a handful of cartoons where Elmer is the ultimate victor but they hardly make a dent in the dozens of cartoons where he is a sap. Elmer is a very conservative, gentlemanly person who is totally incapable of preventing Bugs from ruining his secure little lifestyle.
Yosemite Sam is a rip-roaring, pint size Western character with a huge hat and huge red mustache. Unlike Elmer, Sam is extremely aggressive and rough and in theory, he should have no difficulty handling the rabbit. Unfortunately, Sam's quick temper and vanity make him his own worse enemy. With ease, Bugs is able to turn Sam's unthinking violence into a device that trips up the wild character. Although cast in a variety of roles from pirate to Arab chieftain, Sam always retains his Western accent and expressions. He has no patience with animals, from camels to dragons, who never seem to reach his expectations.
Daffy Duck was teamed with Bugs in a number of memorable shorts and the contrast between the characters added to the humor. Daffy is selfish and out of control. Bugs is calm and uses common sense. Despite Daffy's frantic and frequent attempts to be the hero or get the treasure often at the expense of Bugs, he is not match for Bugs' verbal skill.
Even Bugs couldn't escape being given the obligatory nephew. Clyde first appeared in 1954's YANKEE DOODLE BUGS.
OTHER MEDIA
Like most cartoon superstars, Bugs has appeared during his long career in comic books, comic strips, toys, children's vitamins, special video tapes, jewelry, games and assorted merchandise.
Bugs Bunny's first comic book appearance was in 1941, a year after his official birth. He appeared with other Warner stars in the first issue of LOONEY TUNES AND MERRIE MELODIES. He was in every issue until the comic ceased publication in 1962. (It was briefly revived in 1975 with Bugs still the star.)
The BUGS BUNNY comic books started out in 1942 as part of the Dell Four Color series. After 27 different appearances, Bugs was given his own comic series in 1953 beginning with issue #28 and continuing until issue #245 (1983). Besides these issues, Bugs appeared in dozens of specials and giveaways in addition to guest star roles in other Warner Brothers comic book titles like PORKY PIG and YOSEMITE SAM
The Bugs Bunny newspaper strip first appeared in 1942 as a Sunday page only. In 1948, a daily version of the strip was added. This strip generally featured all of the Warners characters in a situation comedy world. Lately, the strip has been changed to reflect the zany flavor of the original cartoons.
The Six Flags theme parks use the Warner characters as mascots and as expected, Bugs is the main star. Six Flags Magic Mountain, in Southern California, not only has a play area for children themed to Bugs, but the park has been the host to live action stage shows featuring a costumed Bugs with live singers and dancers.
1989 found him cover featuring the debut of LOONEY TUNES magazine, for kids. More than 150 different licensees signed up to produce special Bugs Bunny items during Bugs 50th birthday in 1990. DC Comics produced a special three-issue mini-series, while Nintendo released a special videogame.
SUPERSTAR QUALITY
Bugs Bunny is perhaps one of the most influential of all cartoon superstars. Though such stars as Mickey and Felix may have been the source of mimickry within the animation industry, Bugs influence is felt everywhere. Whether it's the person on the street mimmicking "What's up, Doc" or a top stand-up comic doing an impersonation, the character of Bugs Bunny is as ingrained upon us as such classic live comics as Groucho Marx, WC Fields and Woody Allen. Bugs Bunny is more than just a studio icon, he represents cartoon characters in general.


---
CREATOR QUOTES
"Now in his 50th year, Bugs (with a Bronx-Brooklyn accent) is probably the cartoon character who works best with dialogue -- as seen in the three cartoons in which Bugs, Daffy and Elmer Fudd argue over whether it is rabbit season or duck season." - Jim Henson, creator of the Muppets
"(Bugs is) self assured, nonchalant, imperturbable, contemplative... and above all... a very 'aware' character." - Bob Clampett, Bugs' director
"(Bugs is someone who is) minding his own business, and then somebody comes along and tries to disturb him, hurt him, destroy him. When he fights back, he becomes an anarchist, rather like Groucho Marx." - Chuck Jones, Bugs' director
"I've always felt that what you did with a character was even more important than the character itself. Bugs Bunny could have been a bird." - Tex Avery, Bugs' director
"One of the strengths of Bugs Bunny is that, like all we humans, he has varying 'moods.' At one time he is at peace with the world and slow to react to an invasion of his privacy. At another time, he is in a playful and mischievous mood, full of practical jokes. At other times he is irritable, bugged by the claim that a tortoise can beat a hare." - Bob Clampett, Bugs' director
"In the very first one was 'Eh, what's up, Doc?' and gee, it floored (the audience)! They expected the rabbit to scream, or anything but make a casual remark - here's a guy with a gun in his face!" - Tex Avery, Bugs' director
"Bugs is a counterrevolutionary, you know. He's not a revolutionary. He's not a Woody Woodpecker." - Chuck Jones, Bugs' director.
"Bugs Bunny has been loved for over a quarter of a century now, but he has never been loved the way he was during those (WWII) war years." - Bob Clampett (1969), Bugs' director
"I'd suspect that Friz's Bugs would be more of a scamp, and Tex Avery's more a controlled lunatic, a brillian controlled lunatic. Bob Clampett's was a thoroughly amoral lunatic with flashes of greatness." - Chuck Jones, Bugs' director
"Bugs is not funny by himself. He really is not funny. ... He's kind of a straight man. But he gets all the credit. He can't even create his own situations. You have to create one for him." - Friz Freleng, Bugs' director