Get Animated!
The complete series now on CDrom

Get Animated! was one of the first news magazines dedicated to animation in the U.S. Contibutors to Get Animated! included Frank Baker, Jerry Beck, Robert Carspecken, John Cawley, Timothy Fay, Will Finn, Mattias Gordon, David Jefferson, Jim Korkis, Brett Koth, Alfonso Moline, Fred Patten, Scott Shaw! and more.

This CDrom contains all 7 issues, 0 through 6, as pdf files.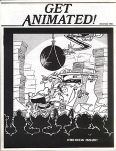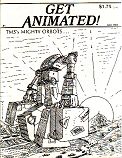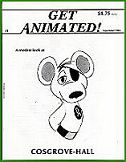 Articles include "Siriol: The Studio Built by a Teddy" (Superted); "Jim Henson's Muppet Babies"; "Eternia on Parade" (He-man); "Saturday Morning - 1985: An Overview"; "A Modest Look at Cosgrove Hall" (Dangermouse); "The Mighty Orbots", and an interview with Atlantic Releasing (SMURFS AND THE MAGIC FLUTE, ADVENTURES OF MARK TWAIN etc.)

Reviews include: GALLAVANTS, THE BOLLO CAPER, THUNDERCATS, THE BLACK CAULDRON, RETURN TO OZ, SPACE FORTRESS MACROSS, HEATHCLIFF, STARCHASER: THE LEGEND OF ORIN, WARRIORS OF THE WIND, and THE CARE BEARS IN THE LAND WITHOUT FEELINGS.

News items include: Don Bluth files for bankruptcy, Ted Turner's purchase of US rights on DORAEMON, Marvel's plans to create a DARK CRYSTAL animated series, announcement of THE EWOKS animated series, Bugs Bunny to recieve a star on Hollywood Boulevard, Disney home video's creation of the "Limited Edition Gold" video series, Mel Blanc starts work on an autobiography, Cosgrove Hall begins work on THE BIG FRIENDLY GIANT, Disney moves their animation department off the studio lot, CBS has greenlit a special based on the Marvin comic strip, Harmony Gold is preparing CAPTAIN HARLOCK AND THE QUEEN OF A THOUSAND YEARS for US TV, TURBO TEEN will become a Monogram model kit, Disney has delayed release of FRANKENWEENIE, Hanna-Barbera announces a live-action feature based on THE JETSONS, and more! Plus dozens of announcements for TV series and movies, some never completed! Not to mention dozens of (now rare) home video titles and descriptions.