Frames of Time...
---
026_04 - The End of the Three Stooges...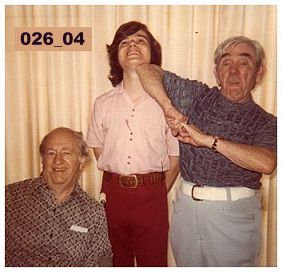 Here is photo of Larry Fine, Moe Howard and me. As mentioned before, I regularly visited Larry at the Motion Picture Country Home. Ironically, Moe had dropped by to chat with Larry.
I had managed to meet with Moe one other time, thanks to the tireless efforts of the Lenburgs. (They had interviewed him previously for their hoped for book.) We went to Moe's home for a social call. I found Moe to be equally different in personality from the other Stooges I had met.
Larry, was a warm, friendly, approachable guy who just loved life. Joe Besser, also discussed earlier, was a sweet fellow who harbored a silent grudge against Hollywood. Moe was a "strictly business" type, who always had an ear to the dollar.
It was no surprise since he had pretty much managed the team from its earlier days. Moe had also gone into real estate, spending his money on land over the years. He was rumored to have owned much of Ventura Boulevard - a now pricey area. Of course, Moe also enjoyed talking of the "old days" and the folks he had worked with. He also was always ready to defend the Stooges against attacks of being "too violent" as well as against other comedians. At times Moe reminded me of the image of Lou Costello, who wanted to be more respected than just a B-comic.
Perhaps my most vivid memory of Moe came from an attempted compliment. A few weeks earlier, the Lenburgs and I had viewed the Super 8mm sound release of KOOK'S TOUR. The film was the last performance of Moe, Larry and Joe DeRita. (It was during the filming of this project that Larry had the stroke that confined him to a wheelchair.) I told Moe I enjoyed the film. Moe instantly became tense and demanded to know how I had seen the film. He then announced it was illegal to have! The Lenburgs and I looked at each other uneasily. I replied that it had been purchased through a home video company and named the company. Moe paused a moment, then muttered a, "oh yes." He paused again and then started telling about how KOOK'S TOUR had come about.
On our drive back to Orange County, Moe's reaction was about the only topic of conversation. The other topic was regarding us getting lost in the hills of Hollywood leaving Moe's house. The hills are a mass of small winding roads. As I made one turn after another, we all agreed there was no need to worry. None of us were on a schedule, and it was unlikely the road would end and we would drive off the mountain like in a Stooges' film. In typical "perfect timing", I made a turn and had to screech to a halt at an old wooden barrier. The barrier marked the immediate end of the road, and an instant drop of over 100 feet! We sat there for over 15 minutes just laughing.
As I said in the title, this photo shows "the end" of the Three Stooges. This photo was taken at our last visit. It would be the last day any of us would talk to Larry. A few days later, Larry suffered a stroke. He recovered slightly for a few days, but then succumbed to a stronger stroke.
Moe attempted to do another Stooge film with Emil Sitka (as "Larry's brother") and Joe DeRita but it never came to fruition. Actually, that was just as well. The Stooges survived numerous third partners, even me in the photo, but the Stooges without Larry would not have been the Stooges. It would have been akin to Moe Howard and his Stooges. Which, oddly, would have brought Moe full circle with Ted Healy.


---
Back To Archives
Back To Main Page