Frames of Time...
---
066_04 - Butch & Buddy, aka The Lenburgs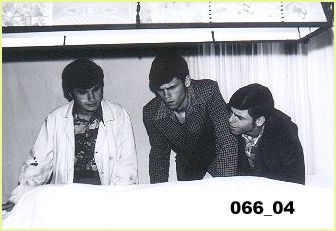 I met Greg and Jeff Lenburg in the mid-1970s. I was manager at the Motion Picture Hall of Fame and Old Time Movie Theater. It was a museum of film memorabilia and a revival theater, the only place one could see classic films in the pre-home video days.
Greg and Jeff were two of the most enthusiastic film buffs I had met at the time. Their main interest was classic comedy. Our mutual interest in such things as Laurel and Hardy, Abbott & Costello and The Three Stooges got us off to an easy start. In fact, it was through their enthusiasm that I became friends with several golden age comics: Joe Besser; Larry Fine; and Moe Howard.
Besides visiting classic comedians, we also spent time haunting the Hollywood collectible shops. We would pick up photos, posters and lobby cards of our favorite stars. At the time, the likes of Stooges and Abbott & Costello were at low ebb, and the items were fairly priced. The Lenburgs also picked up other lowbrow comics as Little Rascals and the Bowery Boys.
Along with being fans of classic comedy, Greg and Jeff hoped to join their ranks. The two were ardent amateur filmmakers. With their Super 8 camera, and eventually a Super 8 sound camera, they were constantly making short films. Most consisted of simple slapstick gags ranging from pratfalls to pie fights. In fact, on one of our visits with Larry, they shot footage of Larry throwing a pie, which ended up in one of their films. (Historians, please note. This would have been the last footage of a pie fight with Larry Fine!)
At one point, they decided to attempt a true "epic". It would be a full two-reeler (20 minutes) and have a story. The project was "Danger Afoot" and starred their favorite alter-egos, "Butch and Buddy". Butch and Buddy's personalities were a combination Abbott & Costello and Huntz Hall & Leo Gorcey, equally cynical and juvenile. The plot featured the duo searching for a mystery killer, who would end up being big foot.
In true epic fashion, the film had a large cast and multiple locations. They enlisted many of their friends to star. I was the coroner, seen left of Greg and Jeff. The body was fellow friend, Laurel & Hardy enthusiast, and frequent cameraman, Randy Skretvedt. The sequence was shot at my home in Irvine, California. Also the location for an elaborate stunt sequence where one of the brothers "falls" off a roof.
It was all goofy fun, and when it finally was completed, almost a year later, several premiere parties were held. The cast and crew found it funnier than anyone else in the audience did.
Their love of comedy also led to a desire to write about it. For several years they pitched book after book about the Three Stooges, trying to use a lot of the interview material we had gathered. Publisher after publisher said no. One afternoon, Jeff asked me how to sell a book. I told him to pick a topic of which few books were written and suggested animation. But that is for another frame of time.


---
Back To Archives
Back To Main Page